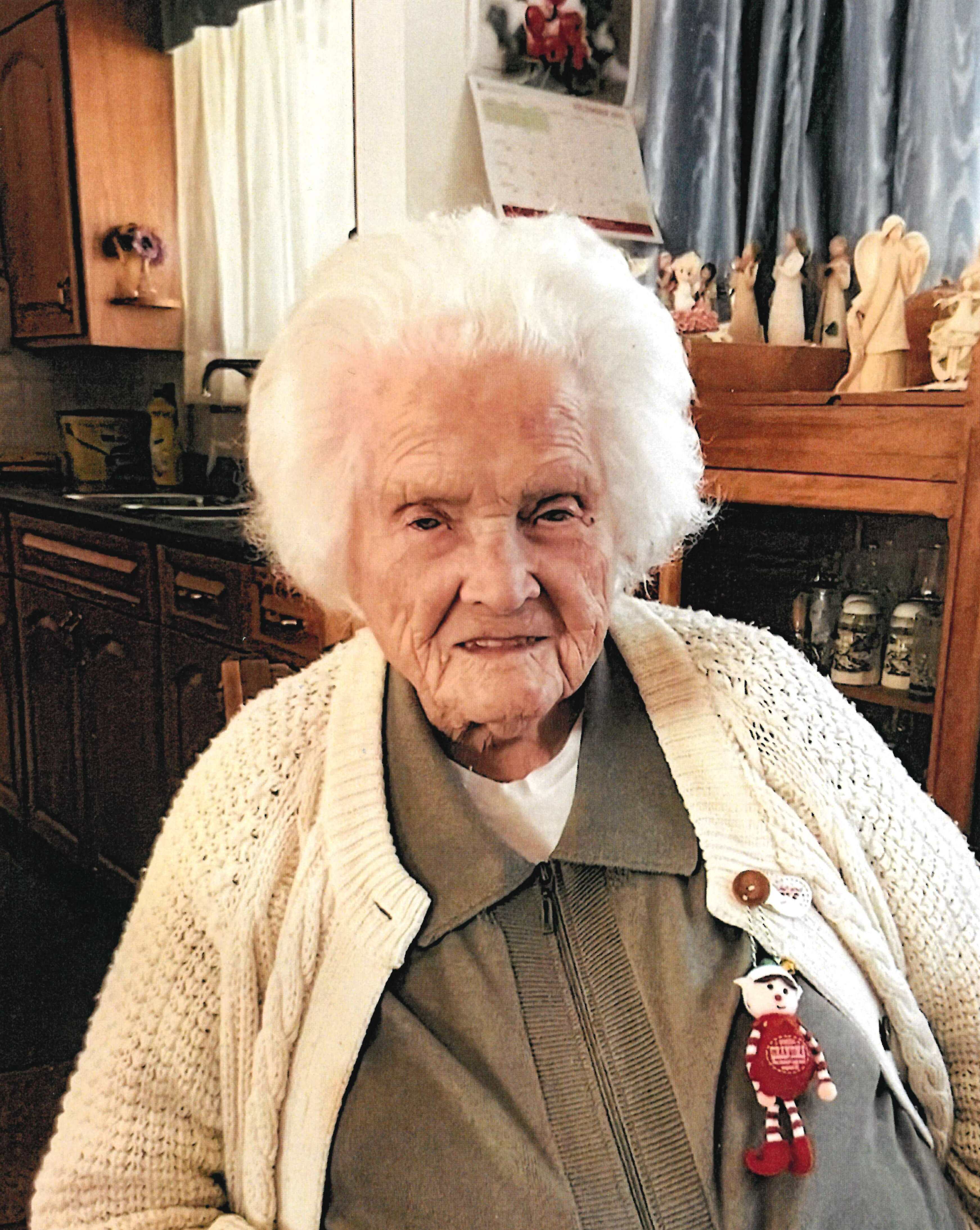 Obituary of Bea Weaver
WEAVER (COLPITTS) EVA BEATRICE "BEA" – of Elmsdale. It is with heavy hearts that we announce the passing of Beatrice Weaver, aged 109 years, which occurred on Wednesday July 5th, 2023, at the Colchester East Hants Health Centre. Beatrice was born on April 29, 1914, in Petitcodiac, N.B., the second youngest of eight children, to parents the late Edgar and Eva (Welling) Colpitts. She was the last surviving member of her immediate family.
Beatrice was predeceased by her husband John, of sixty-three years of marriage.
She is survived by her five children, Arthur (Grete) Kempt Shore, N.S., Diane (Doug Price) Surrey, B.C., Judith (Bob Lee) Bedford, N.S., Sheryl, Elmsdale, N.S., and Peter (Marlene) Sydney, N.S. Beatrice has seven grandchildren and fourteen great-grandchildren, and two great - great granddaughters, as well as many nieces and nephews and great nieces and great nephews.
Beatrice trained as a nurse and worked in the Saint John Hospital. When Beatrice and John married, they lived in Saint John, N.B. until WWII broke out. John did serve in England and Beatrice spent the war years in Petitcodiac with her first two children (on her parents' farm.) When the war was over, they settled in Bedford, N.S.. Here both John and Beatrice were active in this community, the Anglican Church, and raised their five children there.
In 1969 they moved to Elmsdale. Beatrice always kept a vegetable garden and cared for many flower beds. Beatrice enjoyed people and loved meeting everyone. Eating out at her favorite restaurants was a treat for her and she made many friends there too. She was an avid bird watcher - knew all their names and songs. She loved animals as well.
Beatrice was always busy. She read a variety of books, was an excellent cook, was known to hook rugs, make hand-made quilts. sew and knit. She could knit just about anything - hats, scarves, gloves, socks, mittens, vests, sweaters of all sizes (including many baby sweaters) and caps for newborns.
Beatrice supported may charities including the World Wildlife Federation where she was awarded a lifetime achievement award. She was a life-long member of the Anglican Church.
Special thanks to the following (apologies to any not mentioned) for their care in keeping Beatrice in such good health and contentment - her daughter Sheryl; Dr. Jain MacNeil her family doctor; Dr. Andrew Webber, her eye doctor; the doctors and staff at the New Glasgow and Truro hospitals who repaired her broken hip in 2016 and taught her how to walk again; Beltone Hearing Aid Associates; the VON who provided excellent home-care; and Diana, a good neighbor who helped out, provided treats and jigsaw puzzles and played "scrabble" with Beatrice.
And many, many thanks to all her family members and her friends. They provided gifts, cards, letters, treats and visited with Beatrice over the many years of her long, long life of 109 years. She loved you all and appreciated your kindness and thoughtfulness.
Funeral arrangements have been trusted to Ettinger Funeral Homes, Shubenacadie and Elmsdale. A private Graveside Service will take place at a later date.
In lieu of flowers, memorial donations in memory of Beatrice may be made to her favorite charity, the World Wildlife Federation or to a charity of your choice.
Tributes, words of comfort and memories of Beatrice may be shared with the family at www.ettingerfuneralhome.com