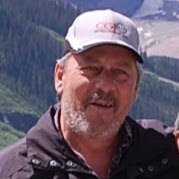 Share Your Memory of
Tony
Obituary of Tony Parsons
PARSONS, William Anthony "Tony" – age 62 of Elmsdale. It is with very sad, bewildered hearts the family of William Anthony "Tony" Parsons announce his death as a result of a catastrophic medical emergency on May 22nd, 2023, in QEII Halifax Infirmary Site, Halifax.
Tony was born at Channel, NL to Gordon and Dorothy (nee Rowe) Parsons on July 1, 1960. He followed in his father's footsteps to explore and hone a keen interest in vegetable gardening producing a spectacular variety of tomatoes and peppers each year and loved to provide gardening tips to whomever showed interest. He particularly loved to cook and whip-up interesting menus for the 'Scat Club' and for the 'jam sessions' to sample. He was also the chief cook in his home. Everyone who knew Tony knew of his love for the 2-pocketed flannel shirt and his steel-toed boots.
He was a career bricklayer. He started his work in the trade as a labourer in Ontario. He completed his training at the District Vocational School in Corner Brook, NL and went on to earn his Red Seal Certificate. He spent most of his career in Nova Scotia with occasional stints in Ontario, B.C. and Alberta. He was self-employed for a number of years and was a member of the Bricklayers and Allied Crafts Union.
Tony leaves to mourn his beloved wife of 38 years, Kerry; sons, Ryan (Jess) and Aaron (Amanda) of Edmonton, AB; his father, Gordon Parsons, Heatherton, NL; sister, Jessie (Brian) Gale, South Branch, NL; brothers, Wayne (Cindy) Etobicoke, ON; Jeff (Cathy) Wilmot, NS; Gerard (Kim) Bradford, ON; parents-in-law, Max & Doreen Ryan, Robert's Arm, NL; sisters-in-law, Penny (Burn) Colbourne, Edmonton, AB; Lori (Sunita) Ryan, Lethbridge, AB; nieces and nephews: Lisa, Geraldine, Cory, Lori, Andrew, George, Dawn, Kyle, Joshua, Tyler, Robert; the folks in the shed at Dutch Settlement; as well as a wide circle of grandnephews and grandnieces; aunts, uncles, cousins and friends.
Tony was predeceased by his mother, Dorothy Parsons, brother, Gordon, and grandniece, Kyla.
The family would like to thank the first responders for their excellent guidance, care and support; the staff at the Cobequid Community Health Centre emergency room and the staff of 6.4 at the QEII for their intensive care and support of Tony and the family. A special thank you to Uncle Ray and Aunt Lynn for their support and care at a very difficult time and to Uncle Cam and Aunt Cheyl for opening their home to the 'horde'.
We are extremely grateful for the recent time the family was able to celebrate together with great joy and excitement. Tony got to see his sons, sister and dad one last time.
Final arrangements have been entrusted to Ettinger Funeral Home, Elmsdale. Cremation has been arranged. A private 'Commemoration of Life' will be observed. His ashes will be returned to Newfoundland at a later date.
"B'ys, you will be rewarded…"