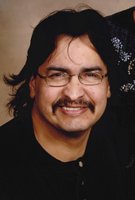 William Joseph "Willy" Gehue
GEHUE, William Joseph "Willy", age 50, of Indian Brook, passed away August 9, 2019 at home. Born in Truro, he was the son of Theresa (Gehue) Socobasin and Larry Socobasin.
Earlier in his life, Willy worked as a labourer at various jobs. A gifted storyteller, he always enjoyed making his friends laugh. Truly an old soul, Willy was a kind and generous person.
Besides his parents, he is survived by brothers Wayne and Richard Socobasin, many siblings in the McDonald family, godchild Alexander, as well as numerous aunts, uncles and cousins.
He was predeceased by sisters Anne Marie Socobasin and Mary Madeline Socobasin, both his maternal and paternal grandparents; godparents Florence Gehue and Richard Sack, many aunts uncles and cousins.
Visitation will be held at his former residence, 23 Burma Road, Indian Brook, beginning Sunday afternoon until time of the funeral mass, which will be held 2 pm Tuesday August 13, 2019 in St. Kateri Roman Catholic Church, 509 Church Street Indian Brook, celebrant – Father Ron Cairns.
Cremation will follow and the cremated remains will be interred at a later date in St. Catherine's Roman Catholic Cemetery, Indian Brook.
Condolences, words of comfort and memories of Willy may be shared with the family at www.ettingerfuneralhome.com