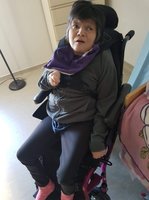 Lisa Marie Sack
SACK, Lisa Marie – age 45 of Riverton, formerly of Indian Brook passed away May 21, 2019 in the Aberdeen Hospital, New Glasgow. Born in Truro, she was a daughter of the late Beverley Ann Sack.
Lisa is survived by her aunts, Mary Jane Brooks and Lyn Sack; uncles, Gilbert Brooks and James Sack; numerous cousins.
Besides her mother, she was predeceased by her brother, Sheldon Lee Sack; grandparents, Annie and Norman Brooks; godparents, Rachel Brooks and Leo "Chookie" Sack.
Visitation will be held after 10am Friday, May 24th at 80 Burma Road, Indian Brook. Funeral Mass 1pm Saturday, May 25th in St. Kateri Roman Catholic Church, Indian Brook, Father Ron Cairns officiating.
Condolences, words of comfort and memories of Lisa may be shared with the family at www.ettingerfuneralhome.com