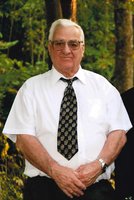 Malcolm Roderick Urquhart
URQUHART, Malcolm Roderick- Milford, passed away peacefully, May 12,2019 with his family by his side. Born April 12,1925 in Pleasant Bay, C.B., he was a son of the late Duncan J. and Christine Urquhart.

Malcolm spent all of his working life as a truck driver for the National Gypsum. He started in Dingwall and later transferred to Milford where he worked until his retirement.

Malcolm enjoyed tending to his bountiful vegetable gardens. He loved spending time with his sons hunting and fishing and many great memories were made attending to his yearly woodpile.

Malcolm was passionate about his Cape Breton music , especially the great fiddle music that could be heard at all hours of the day and night around his home in Milford .

Malcolm leaves behind his loving wife and best friend of 70 years, Sadie "Peggy"; his sons, Ronnie, Blair (Tanya), Gerald (Maxene); daughter in law, Terry; sister, Donna; sisters in law, Jessie and Gracie; many nieces and nephews; special niece, Kim.

His legacy lives on through his beautiful grand-children and great grand- children .

He was predeceased by son, Eric; brothers, Frankie, Chester, Alex and Douglas; sister, Patsy.

A celebration of Malcolm's life will be held from 1-3pm, Saturday, May 18, 2019 in the Milford Recreation Center, 2288 Highway 2. Interment at Milford Cemetery.

Donations in memory of Malcolm may be made to Milford United Church or Milford Lions Club .

Condolences, words of comfort and memories of Malcolm may be shared with the family at: www.ettingerfuneralhome.com

"The song has ended but the Melody Lingers on"