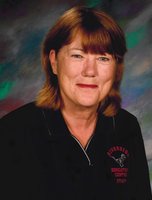 Mary Esther Doucet
DOUCET (SULLIVAN), Mary Esther - of Enfield. Well I guess it's time to say so long! I was born September 23, 1953 to Joe and Mary (Scott) Sullivan and passed away surrounded by my family on May 5, 2019 in the Colchester East Hants Health Centre, Truro.
I am survived by my husband of 45 years who I dearly love, John Doucet, Enfield; and my two loving sons who I am so proud of, Andy, Boyle, Alberta; and Chris (Fumi), Montreal, Quebec; along with my two grandchildren who are my beautiful babies that I know God will always bless, Kenshin and Yuna. Also left behind with many amazing memories that we have made together are my brothers and sisters, Joe, Enfield; Tim (Debbie), Enfield; Dan (Pat), Enfield; Patrick, Alberta; Cecillia Lidgett (Farrel), Alberta; Eileen Wilson (David), Belnan; Shawn, Enfield and special family friend Parichat Lasingwong. I have thoroughly enjoyed the company of all of my nieces and nephews and their children. My Aunt Irene Scott, Aunt Jean Scott and Cathy Sullivan always held a special place in my heart.
I am predeceased by my parents and my precious infant daughter, Sarah Doucet.
I was an Educational Assistant for 15 years. The last six years were very enjoyable for me working at the Shubenacadie School with wonderful staff and students and I was very happy being responsible for the Breakfast Program last year. As a person of great faith, after moving to Shubenacadie, I was a member of Saint Bridget's Church where I was involved with the Catechism Program for 20 years. After moving back to Enfield 15 years ago, I again returned as a member of St. Bernard's Parish. I was also a member of the Enfield Royal Canadian Legion, Branch 133 and held many executive roles but nothing gave me more pleasure than that of the Poppy Campaign and walking in the Legion parade every year on Remembrance Day. With the Legion, I enjoyed volunteering in many capacities. Planting flowers in front of the Legion in Mary's Garden in memory of my Mother each spring and tending to them throughout the summers held special meaning for me. I enjoyed working at the pie table at the annual July 1st suppers and helping with the packing of Christmas groceries for families in the community with the Caring and Sharing Food Bank. I loved flowers and enjoyed time in my flower beds as will as taking pictures, painting from time to time, knitting, doing crossword puzzles, reading and playing sewers and washers. My favorite place was our property on Grand Lake where I was so fortunate to enjoy many good times with family and friends. I have truly been blessed with a wonderful family, great friends and an extremely supportive community. Thank you to all the VON's and staff of the Truro Hospital.
There will be no visitation. A celebration of my life will be held at St. Bernard's Roman Catholic Church, Enfield on Saturday, May 11, 2019, beginning with a Legion service at 10:30am, followed by a funeral mass, Father Michael Walsh officiating. Private family burial following funeral in the St. Bernard's Cemetery with my daughter Sarah.
Reception following interment at the Enfield Royal Canadian Legion Hall, 50 Old Enfield Road, Enfield.
Donations can be made to the Enfield Royal Canadian Legion, Montgomery Branch 133 Poppy Fund, 50 Old Enfield Road, Enfield, NS B2T 2C9 or to the Enfield Caring and Sharing Food Bank, 50 Old Enfield Road, Unit 2, Enfield, NS B2T 2C9.
Condolences, words of comfort and memories of Mary Esther may be shared with the family at: www.ettingerfuneralhome.com