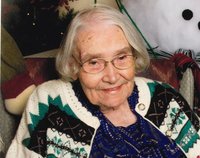 Margaret Alberta McNeil
McNEIL, Margaret Alberta-age 100, of Carroll's Corner, passed away January 6, 2019 in the Colchester East Hants Health Centre, Truro.
Born in Waverly, she was a daughter of the late George and Mary (Gerrity) Williams.
Margaret worked at Simpson's in Halifax for many years. She was section head of the paint department, retiring in December 1981. She was a talented craftswoman and sold her creations at exhibitions across Canada.
Margaret is survived by her sons, Joseph P. McNeil, Carroll's Corner; Walter McNeil, Upper South Branch; grandson, Faron McNeil, Alberta; granddaughter, Madeline, Lunenburg; great grandchildren, Amanda (Jamie) Withrow-Jarvis, Dartmouth; Heidi, Yarmouth; Jacob Withrow-Jarvis and Joseph Withrow-Jarvis, Dartmouth; Jonathon Withrow, Dartmouth.
She was predeceased by her husband, Joseph Patrick McNeil. She was the last surviving member of her immediate family.
No visitation by request. A graveside service will be held 11am Friday, January 11 in St. Bernard's Catholic Cemetery, Enfield, Fr. Michael Walsh officiating.
Donations in Margaret's memory may be made to a charity of choice.
Condolences, words of comfort and memories of Margaret may be shared with the family at www.ettingerfuneralhome.com