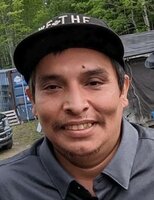 Danny Syliboy
SYLIBOY, John Daniel "Danny"-age 39 of Indian Brook passed away at home on February 13, 2023. Born in Truro, he was a son of Christine Syliboy and Doug Julian.
Danny had the biggest heart; he would be there for anyone who needed anything. He was one of the kindest people and had a smile that would light up a room. He always radiated positivity. Danny was a huge sports fan; especially when it came to basketball and football. He was family oriented, and "Uncle Danny" meant the world to his nieces and nephews.
Besides his parents, Danny is survived by his daughter, Thunder; sisters, Natasha, Mary Ellen (Rèal) and Tracy; all of Indian Brook; brothers, Jay (Amber) Joseph and Andy (Sandi) Joseph both of Elsipogtog, NB; god daughter, Ariel Willis; many nieces and nephews.
He is predeceased by his father, Junior Joseph; sisters, Lacey Simon of Elsipogtag, NB; and Priscilla Syliboy of Indian Brook.
Visitation will be held beginning at 6pm Wednesday, February 15, 2023 at 22 Meadowbrook Road, Indian Brook until time of service at 1pm Saturday, February 18, 2023 at St. Kateri's Roman Catholic Church, Indian Brook. Father Phil Thibodeau officiating. Burial to follow in St. Catherine's Cemetery.
Tributes, words of comfort and memories of Danny may be shared with the family at www.ettingerfuneralhome.com