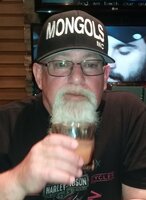 Doug Dimock
DIMOCK, Douglas Karl- age 63, of Shubenacadie. It is with heavy hearts that we say Goodbye to our loved one, Doug, who left us on February 10,2023, at 3:20 pm, peacefully at home with his loving wife by his side after a courageous battle with cancer.
Born in Wolfville, NS on April 4th 1959, to John and Kaye Dimock (Pottie). A few years later- in 1965, he moved to Halifax where he attended JL Ilsley High school.  After completing high school he attended Halifax Vocational School and became a certified plumber. Then he went on to join the military and served in the Army and eventually re-mustered to the Air Force. He continued his career until he was forced to retire with a medical discharge after 17 years of service. Aside from spending time with his family, Doug's greatest passions were watching soccer or coaching his kids soccer team, and trying new foods, he was quite the food connoisseur. But above everything, his ultimate passion was being on the road riding his Harley. After retirement he and his wife and kids settled in Shubenacadie. Once the kids were gone so was Heidi and him... off to start a new stage of their life in South Hampton. After several years there, they decided they'd move again because of his health issues, with their two best friends Daisy and Diesel (their dogs) to a new home in Nuttby Mountain to be closer to their kids and his cancer team.
Doug is survived by his loving wife of 47 years, Heidi (Koerner) Dimock; sons, Daniel (Crystal), Cody (Shannon); seven grandchildren; his mother, Kaye (Pottie) Dimock ; siblings, John (Beverly) Dimock, Elizabeth Dimock (Robert Rhymes) and James Dimock; father-in-law, Herman Koerner and sister-in-law, Sharon Koerner.
 He is predeceased by his father, John Dimock; his son Trevor Dimock, and mother-in-law, Janice Koerner.
Cremation has taken place under the care and direction of Ettinger Funeral Home in Shubenacadie. There will be no service as per Doug's wishes.
Memorial donations may be made to the Canadian Cancer Society.
Tributes, words of comfort and memories of Doug may be shared with the family at www.ettingerfuneralhome.com