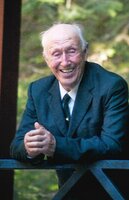 Bill Lawrence
LAWRENCE, William Dawson "Bill" – age 94 of Upper Rawdon, passed away peacefully on October 14, 2022, in Colchester East Hants Health Centre, Truro. Born in South Maitland, he was a son of the late Chester John and Pearl Verna (Bennett) Lawrence. Bill left this life a loved and significant man, a man of unshakeable convictions.
Bill was a member of the Royal Canadian Legion Branch 9, Windsor, for over 70 years, having managed to join the army at the age of 14 by "telling a little white lie," according to him.
Bill, alongside his late wife, Opal, and their family, made his mark as one of the greatest auto wreckers of all times. Upon moving to Rawdon, he started a mechanic shop in a small blacksmith building. Next, he operated the Fina Service Station on Highway 14 and eventually their true legacy, W.D. Lawrence Auto Salvage Ltd.
Bill's reputation has preceded him for decades. He will forever be the fierce man who named the price, whether he was buying or selling, who worked from before dawn until after dusk every single day, who didn't own a thing he didn't buy outright.
Those who truly knew Bill will also remember him as much more. He was witty and had a keen sense of humour. He loved the simple things in life like his early morning newspaper, animals, especially dogs, political banter and reciting old saying and limericks.
Bill had a classic expression for most everything. To gossip he said, "Only the Lord knows and he won't tell." To a frown he said, "Smile and the world smiles with you." When something breaks, you fix it because, "Waste not, want not." In business he said, "In God we trust. All others pay cash or by certified cheque."
Bill is survived by his children, Dawson (Terry Lynn), Mary (Robert), Tim (Sharra); grandchildren, Jacquelyn, Devin (Kara), Darcy (Liz), Bill, Nick, Riley (Tanya); great grandsons, Cruz and Torc, who lovingly nicknamed him "Grampie Builder."
Besides his parents, Bill was predeceased by his wife, Opal (Singer); brothers, Lew and Ben.
Cremation has taken place. A visitation will be held from 2 – 4 PM and 6 – 8 PM on Thursday, October 20th, 2022, in Ettinger Funeral Home, 2812 Highway 2, Shubenacadie. A private graveside service will be held at a later date.
Tributes, words of comfort and memories of Bill may be left for the family at www.ettingerfuneralhome.com