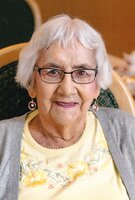 Audrey May Nolter
NOLTER, Audrey May- age 93 of Milford, passed away on September 15, 2022 in Magnolia Continuing Care, Enfield. Born in Carroll's Corner, she was the second daughter of the late Howard and Hattie (Tanner) McPhee. She was the last surviving member of her immediate family.
After finishing high school, Audrey took a stenographer course at Success Business College in Truro where she worked until she married Charles Nolter in 1949. Audrey spent many years supporting three pro-life organizations both practically (knitting baby sets) and financially.
She is survived by her son, Chester; granddaughter, Jennifer Nolter; sister-in-law, Phyllis MacPhee; special cousins, Bernard, Ivan and Donnie MacPhee; many nieces and nephews; 5 step-children and some good friends.
Besides her parents, Audrey was predeceased by her first husband, Charles; sons, Wayne, Phillip and two infant sons; daughter, Leigh "Marilyn" Wild; brothers, Fulton "Buster", Alfred and Cecil; sisters, Goldie and Greta; her second husband, Robert E. M. Davis; many other relatives and good friends.
Visitation will be held from 2 – 4 PM on Tuesday, September 20th in Ettinger Funeral Home, 2812 Highway 2, Shubenacadie. Cremation will take place prior to the funeral service. The funeral service will be held in Ettinger Funeral Home, Shubenacadie at 2 PM Wednesday, September 21st, Rev. Natalie Buchanan-Rutherford officiating.
Donations may be made to the Canadian Cancer Society, The Kidney Foundation of Canada, Arthritis Society of Nova Scotia or the Heart and Stroke Foundation.
Tributes, words of comfort and memories of Audrey can be left for the family at www.ettingerfuneralhome.com