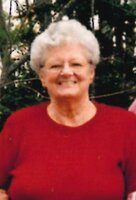 Lorraine Florence Forbes
FORBES, Lorraine Florence – 93, of Enfield, passed away peacefully on June 19, 2022, at The Magnolia, Enfield.
Born in Enfield, she was the daughter of the late Ambrose and Kate Horne. Lorraine came from a large family. Her life lovingly embraced her family. Her specialty was her cookies with her cookie jar always full and ready for young (and old) to enjoy.
She is survived by her seven children, David, Joseph (Nancy), Judith (John) Mason, Catherine, Jerome (Heather) Horne, Kenneth John, and Jeff (Natasha). She will be missed by her many grandchildren and great-grandchildren. She leaves behind her two sisters Nancy Ryan and Sharon Rochon.
Lorraine was predeceased by her husband, Ken; brothers, Ray, Leo, Clyde, Ronald, Harold; sisters, Rita, Greta, Shirley, Alma and Barbara.
Arrangements have been entrusted to Ettinger Funeral Home, Shubenacadie. Cremation has taken place.
Funeral services will be at 11:00am on Friday, June 24, 2022 at St. Bernard's Catholic Church, 253 Highway 2, Enfield with Father Michael Walsh officiating. Family flowers only.
Special thanks to the staff of the Magnolia for the exceptional care provided to Lorraine during her stay with them.
Donations may be made to the Canadian Diabetes Association or the Alzheimer Society of Canada. Tributes, words of comfort and memories of Lorraine may be shared with the family at www.ettingerfuneralhome.com