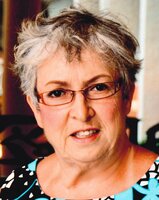 Joan Fraser
FRASER, Joan – age 69 of Enfield. It is with great sadness that the family announces the passing of a wonderful mother, sister, daughter, aunt and friend who passed away comfortably at home surrounded by family and her husband on May 31, 2022. Joan was born on April 12, 1953 in Codrey, Newfoundland to the late Joseph and Agnetta (Hilliard) Collier.
Although Joan battled Parkinson's Disease for 25 years and cancer for 9 years, she was always her happy go-lucky self. Joan was a social butterfly that enjoyed going to the legion, playing cards and washer toss. She was the unofficial clown for the seniors group. Joan took pride in writing her poems. She was always singing and dancing around the house. Joan loved being surrounded by family and friends but most of all she was always spreading joy and cheer to everyone around her.
Joan is survived by her husband, Don; children, Derek (Janet) Fraser and Angela Fraser (Jamie); grandchildren, Joseph Hallett (Tianna), Braden Fraser, Ella Fraser and Joshua Doyle; many loving brothers and sisters.
Besides her parents, Joan was predeceased by 6 siblings.
Cremation has taken place under the care of Ettinger Funeral Home. A celebration of life will be held at the Royal Canadian Legion Branch 133, 50 Old Enfield Road, Enfield, on Sunday, June 5th at 2 PM.
Donations in memory of Joan can be made to Parkinson Canada.
Tributes, words of comfort and memories of Joan can be shared with the family at www.ettingerfuneralhome.com