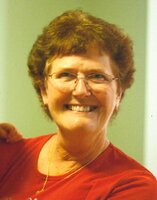 Diane Margaret Howlett
HOWLETT, Diane Margaret- age 77, of Wellington, passed away peacefully on May 17, surrounded by the love of her family after a lengthy battle with cancer at the QE11 Health Sciences Centre VG Site, Halifax. Born in Toronto, she was a daughter of the late William and Adelaide (Adams) Granner.

An avid reader and devoted Toronto Blue Jays fan, Diane also enjoyed gardening and watching birds in the yard. She loved nothing more than spending weekends at Riverland Campground, her favourite spot for the last 30 summers, where she enjoyed late night campfires, long talks, and lots of laughs with her many friends and family.

Diane is survived by her loving husband of 57 years, Ken, and her children, Maryann (Ronnie Marriott) and David (Hillary Titley).

Beside her parents she was predeceased by her brothers, William and James.

A Celebration Of Life will be held at the Wellington Fire Hall on Sunday, May 29, from 3-5 PM.
A graveside service will be held at St. Bernard's Church Cemetery, Enfield at 1:30pm on Friday, June 17th, 2022.

In lieu of flowers, memorial donations may be made to the Canadian Cancer Society.

The family would like to express a special thanks to the staff at the QEII Health Sciences Centre, especially to Dr. Keiser, the staff of 5A, 5B, and the Oncology Department, for their care and compassion during Diane's stay.

Tributes, words of comfort and memories of Diane may be shared with the family at www.ettingerfuneralhome.com