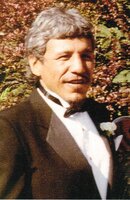 Joe Toney
TONEY, Joseph Douglas, age 65 of Raymond, Alberta, formerly of Indian Brook, passed away April 13, 2022, in Good Samaritans Hospital, Raymond, Alberta. Born in Truro, he was the son of the late Joseph Toney and Dr. Isabelle Knockwood.
Besides his parents, he was predeceased by brother, Alfred Toney.
He will be deeply missed by his partner of 22 years, Jane Haspeck; daughter, Mallory Card (nee Toney-Pictou) and son, Jameson Pictou-Toney, grandchildren Amelia, Freyja and Bella; sisters, Frances Toney, Ivy Toney and Valerie Toney, brother Karl Shay, and several nieces and nephews.
Joseph was a survivor of the Residential and Indian Day schools. He spent many years living in Boston, Vancouver, Toronto and the Province of Alberta.
Joseph's amazing sense of humour and great outlook on life helped legions of people get through their trying times and gave them strength and courage. He would not hesitate to give anyone the shirt off his back or share one of his many unique stories.
An avid outdoorsman of the Coolies, he was self-taught musically and loved playing the guitar. He is beloved and will be missed deeply.
Warmth. Smile. laughter.
Cremation has taken place. Visitation will be held 2-4 pm Monday, April 25th in Ettinger Funeral Home, 2812 Highway 2, Shubenacadie.
A graveside service will be held 2pm Tuesday, April 26th in St. Catherine's Cemetery, Indian Brook. A Livestream of the Service will be available at this link:
https://event.forgetmenotceremonies.com/ceremony?c=4513d251-a2ba-4ca5-b6c2-9ce3f84037da
**We ask that you pre-register to view the service; simply click on the link and follow the instructions. This can be done now and will ensure that you will be able to see the ceremony live on Tuesday.**
Tributes, words of comfort and memories of Joseph Toney may be shared with the family at www.ettingerfuneralhome.com