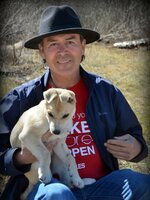 Gilbert Stanley Brooks
BROOKS, Gilbert Stanley – age 58 of Indian Brook passed away on April 16, 2022 in Colchester East Hants Health Centre, Truro. Born in Truro, he was a son of the late Annie and Norman Brooks.
Gilbert had a personality that was larger than life. He loved to entertain people by reciting his poems, singing Dr. Hook and making people laugh. Gilbert was always a great storyteller and was very strong – he amazed people with his ability to bend nails. He was happiest when he was working or just spending time in the woods. Gilbert embraced his traditional roots by participating in sweat lodges. He operated a store for many years and was a very kind man who would help out anyone. Gilbert also had a soft spot for dogs, babies and the elderly. He loved his family very much and had a special relationship with his nieces, Cerena and Andrea.
Gilbert is survived by his son, Charles Marshall "Brooks"; sister, Mary Jane Brooks, Michelle Willis; brothers, Michael Willis, Jason, Jonathan and Stephen Marshall; sisters-in-law, Lyn Sack and Catherine Sack "Gudd"; best friend, Karen; numerous nieces and nephews.
Besides his parents, he was predeceased by his biological parents, Stephen Marshall and Catherine Willis; son, Gilbert Phillips "Baby Gibb"; siblings, Gloria, Beverly, Peter, Leo, Jimmy, Carl, Richard.
A visitation will be held beginning at 4 PM on Wednesday, April 20th, 2022 at 566 Church Street, Indian Brook. A funeral service will take place at 11 AM on Saturday, April 23, 2022 in St. Kateri's Roman Catholic Church, Indian Brook. Fr. Phil Thibodeau officiating.
Interment will follow the service in St. Catherine's Cemetery, Indian Brook.
Donations in Gilbert's memory can be made to the Canadian Mental Health Association or to the SPCA.
Tributes, words of comfort and memories of Gilbert can be shared with the family at www.ettingerfuneralhome.com