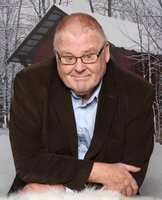 David Ross Paul
PAUL, David Ross – age 72 of Shubenacadie, passed away with peace in his heart knowing that his family would be okay on April 15, 2022 in Colchester East Hants Health Centre, Truro. Born in Halifax, he was a son of the late Lorne and Edith (Mabee) Paul.
A single mom with two children, I had stopped believing that true love really existed and then I met the most amazing man. He was also a single parent and father of three. The moment we met, I felt as though I had known him forever and on some level it must have been so. After our marriage we had two children together and added a couple of foster children to the mix; a niece and an orphan who referred to us as mom and dad. Our life was so full of love. We weathered every thing life had to throw at us – heartache, disappointment, loss, sorrow and joy together. We had planned to renew our wedding vows this year on our 35th wedding anniversary but his time on this earth came to an end on Good Friday. His love for me and our family was so deep and abiding that we all feel his loss so acutely that it is like being adrift without a rudder.
David is survived by his wife of almost 35 years, Janet (Ingraham); children, Lori, Elizabeth, Michelle, Phillip, David (Layne), Tiffany (Michael), Michael (Autumn); foster children, Meghan (Gil), Billy, Jordan; 13 grandchildren; numerous great grandchildren; brothers, Ronnie, Chris, Stephen; aunt Ruth; uncle Billy (Marry).
Besides his parents, he was predeceased by his sister-in-law, Brenda.
Cremation has taken place. A visitation will be held from 6-8 PM Sunday, April 24, 2022 in Ettinger Funeral Home, 2812 Highway 2, Shubenacadie. A private burial will be held at a later date.
Tributes, words of comfort and memories of David can be left for the family at www.ettingerfuneralhome.com