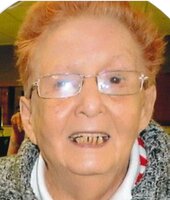 Mary Evelyn Paul
PAUL, Mary Evelyn – age 84 of Indian Brook passed away on April 15, 2022 in Colchester East Hants Health Centre, Truro. Mary was just shy of her 85th birthday. Born in Indian Brook, she was a daughter of the late William Gabriel and Sarah Agnes (MacDonald) Paul.
Mary loved her church and also her senior group friends.
Mary is survived by her daughter, Starleen Wysote, Millbrook; six grandchildren, Cynthia, Chris, Kelly Jr., Shannon, Destiney, Jasmine; great grandchildren, Jessica, Christopher John "C.J.", Terrel, John Jr., Brianna, Brooklyn, Neveah, Adaya, Macee, Scottlyn; great great grandchildren, Everly, Alowen, Emmery, Hudson, Brenna; brother, Daniel (Patricia); sisters, Rebecca (Paul) Paolini and Rosalita (Robert) MacMillan.
Besides her parents, Mary was predeceased by brothers, John, Lawrence, Robert; sisters, Rhoda, Jane, Violet.
Visitation will begin at 3 PM on Monday, April 18th at 497 Hollywood Drive, Indian Brook.
A funeral service will be held at 11 AM on Wednesday, April 20th at St. Kateri's Roman Catholic Church, Indian Brook. Father Phil Thibodeau officiating. Interment will follow in the St. Catherine's Cemetery, Indian Brook.
The family would like to extend a special heartfelt thank you to Indian Brook Health Centre staff and an extra thank you to Terry Knockwood, Sarah Paul and Annie Mae Nevin for their kindness and care of Mary Evelyn.
Tributes, words of comfort and memories of Mary can be left for the family at www.ettingerfuneralhome.com