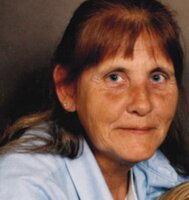 Anna Kellock
KELLOCK, Muriel "Anna" - age 80, of Milford, passed away at home on March 3, 2022
Born in Halifax (Aug. 10, 1941) , she was a daughter of the late Robert Edward and Mary Kathleen (MacDonald) Norris.
Anna loved her family. She and Roy were members of the Harley Owners Group, Local Central Chapter of Nova Scotia. They enjoyed attending car shows, motorcycle events, visiting museums and touring around the province.
She is survived by her husband, Roy (soulmate); children, Patsy Bambury, Michael Henry, Tanya Henry, Arthur (Barbara) Henry, John (Ronda) Henry, and Cindy Dempsey; grandchildren; Rhonda Richmond, James Walker, Joshawa Bourque, Zach Henry, Heather MacDonald, Kayla Henry, Shane Henry, Siara Henry, Blake Henry, Dianna Henry, Michael Henry, Garion Henry and Keagan Henry: numerous great grandchildren; brother, Frank Norris (Gail); sister, Mary (Paul) Langseth; numerous nieces and nephews.
Besides her parents, she was predeceased by sisters, Kathleen Henry and Patricia Norris.
A Celebration of Anna's life will be held 2pm Tuesday, March 8, 2022 in Ettinger Funeral Home, Shubenacadie, Rev. Greg Bland officiating. A livestream of the ceremony may be viewed by selecting "View Service Here" next to her obituary or directly at this link : https://event.forgetmenotceremonies.com/ceremony?c=e1fe4647-55e7-46c9-a707-e6f853a53b53
**We ask that you pre-register to view the service; simply click on the link and follow the instructions. This can be done now and will ensure that you will be able to see the ceremony live on Tuesday at service time.
Cremation will follow, spring interment will be held in Oak Hill Cemetery, Milford.
In lieu of flowers, donations may be made to Souls Harbour, Hope for Wildlife or a charity of your choice.
Tributes, words of comfort and memories of Anna may be shared with the family at: www.ettingerfuneralhome.com