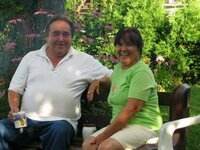 Peter Alfred Maloney
MALONEY, Peter Alfred – age 69 of Sipekne'katik. It is with profound sadness that we announce the peaceful passing of our beloved Peter on February 6, 2022 in The Mira Nursing Home, Truro with family by his side. Born July 5th, 1952 in Tynne Valley, P.E.I., he was a son of the late Matthew "Shorty" and Martha (Sark) Maloney.
Peter loved to travel to visit family and friends and had a great sense of humour. Peter loved deer hunting and listening to Elvis Presley.
Peter was a loving father, husband and brother. He is survived by his wife, Deborah (Paul) Maloney; children, Colin Maloney, Jason Maloney, Godfrey Maloney, Melissa Maloney, Jody Maloney (John), Sophia Gehue, Patrick Gehue, Daniel Drummond, Arizona Drummond; grandchildren, Angeline Maloney, Lily Paul, Dante Smith, Gabriella Smith, Isabella Smith; brothers, Andrew (Doris) Maloney, Thomas Maloney, Emile "Beaver", Kenny Maloney, Vernon Maloney; sisters, Loraine Bernard, Ruth (Mike) Loft, Marcella Hillier; Godchildren: Sharon Maloney, Sheena Sylliboy, Darcy Copage; numerous nieces and nephews.
Besides his parents, Peter was predeceased by 2 sons in infancy, Peter and Baby Maloney; brothers, Eugene "Cowboy", Gerald "Indian", Patrick "Jackie", Stuart "Bunk" and sister, Audrey Maloney.
A visitation will be held beginning at 5 PM on Wednesday, February 9, 2022 at 109 Meadow Drive, Indian Brook and will conclude at 4 pm on Friday, February 11, 2022. COVID-19 protocols must be adhered to; proof of vaccination and a government issued ID must be presented to attend; masks must be worn. Cremation will then take place. A graveside service will be held at a later date. There will be no church service at this time.
Peter was a survivor of the Shubenacadie Residential School and the Indian Day School and we would be honoured if donations can be made to "Every Child Matters" in Peter's honour. (orangeshirtday.org)
Tributes, words of comfort and memories of Peter can be shared with the family at www.ettingerfuneralhome.com