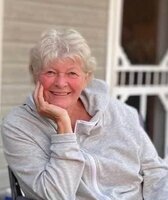 Sharon Lea McCarthy
McCARTHY (O'NEIL) Sharon Lea – age 74 of South Branch, passed away on February 4, 2022. Born on June 4, 1947, in the town of Truro, she was the eldest child of John and Dorothy (Crawford) O'Neil. Growing up in Stewiacke with her parents and seven siblings was the beginning of a lifetime of love and loyalty that Sharon would bestow upon her entire family.
At age 18 she worked at MT&T for a few years until her children were born after which she happily became a stay-at-home mom. When her children left home, she drove a school bus, cleaned houses and took a home care course which she loved. She was grateful to help her senior friends. Sharon was a hard worker in everything she did and was constantly on the move puttering around the house or yard (no one had a cleaner house or sheets as fresh!!).
Sharon married Huck (Merlin) – her best friend and soul mate – in 2003. She loved her life with him and would often be found sitting by the campfire having a drink, taking long drives together and spending time with their abundance of family and friends. She loved the woods and wildlife, especially feeding the birds in the park-like surroundings of their home in South Branch. When she finally took some time to relax, Sharon enjoyed her daily journaling, lexicons and reading.
Her practical no-nonsense approach to life allowed her to boldly take on life's challenges with strength, caring and humor. She stood by her family, stood by her word and we could ALWAYS count on her. Our lively Sharon always kept things exciting and fun with plenty of good-natured mischief. She was legendary.
She is survived by her husband, Merlin "Huck"; son, Kelly (Christina) Dewar; grandsons, Ben and Charlie; daughter, Kim (Gary) Mitchell; granddaughters, Molly and Abby; stepsons and their families, Bryce (Shelly) McCarthy and his sons, Harrison and Vincent; Barrett (Nikki) McCarthy and their children, Logan and Lennox; Jonathan (Ryan) McCarthy and their children Marshall and Violet; sisters, Barb McKenzie; Bev (John) Swan and Shelley McCarthy; brothers, John (Linda) O'Neil, Mike (Rowena) O'Neil, Garth (Stephanie) O'Neil; sister-in-law Gisele McCarthy.
She is predeceased by her father, John and mother, Dorothy; brother, Pat; brothers-in-law, Neil McCarthy and Gerald McKenzie.
Love to nieces Tracey, Erin, Ashley, Katie, Cassie, Emma, Taylor, Kim, Katlin and nephews, Liam, Mark and Kevin and Huck's cousin, Derek McCarthy.
Sharon was the driving force and heart of our entire family – she loved everyone immensely and told them so regularly. We will never forget.
Cremation has taken place under the care and direction of Ettinger Funeral Home, Shubenacadie.
A visitation will be held from 2-4pm and 6-8pm on Friday, February 11th in Ettinger Funeral Home, 2812 Highway 2, Shubenacadie. COVID-19 protocols must be adhered to; proof of double vaccination and a government issued id must be shown to attend; masks are required.
Donations in Sharon's memory may be made to the Children's Wish Foundation of Canada.
Tributes, words of comfort and memories of Sharon may be left for the family at www:ettingerfuneralhome.com
"You can close your eyes and pray that she'll come back or you can open your eyes and see all she's left".