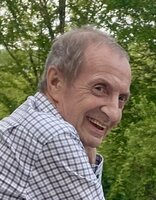 Hubert Randolph Heath
HEATH, Hubert Randolph, age 73, of Fall River, Nova Scotia, passed away on January 13, 2022 in Halifax, Nova Scotia surrounded by family.
To honour his final wishes, there will be no visitation, funeral, or in memoriam donations. The family wishes to extend our deepest gratitude to the following teams for supporting us during Hubert's journey: Continuing Care NS, Northwood Home Care, Community Palliative Care, and the Victoria General Palliative Care team.
Loving husband, dad, poppy, brother, uncle, and friend, he leaves to mourn his wife of 51 years Trudy Heath (nee De Boer); daughter, Dawnetta McDonald (Dave); son, Derick Heath (Melissa) and grandchildren; sister, Miriam Cull (Don); nephews, and close friends near and dear to his heart.
He was predeceased by his father Andrew Heath, mother Christina Heath (nee Paddock), and brother Kirk Heath.
Hubert was an entrepreneur for 30 years in his hometown of St. Anthony, Newfoundland. Handy Andy/Autoparts Plus was a name known all along the Great Northern Peninsula of Newfoundland and southern coast of Labrador. He appreciated an honest person and an honest day's work. Partners in life and business, Hubert and Trudy helped out hundreds of customers over the years and the most precious among them became friends.
He was a man of many trades with an eye for perfection. A Carpenter, Welder, Plumber, Electrician, and Mechanic. You name it, he could make it or fix it. He could also tell you if it was 2mm off! His BBQing skills were unparalleled. Hubie's grilled steaks and chicken wings will be missed almost as much as he will be missed.
As a true Newfie outdoorsman, he was a great hunter, fisher, woodsman, and gardener. As his buddies know, his stubbornness served him well in his outdoor adventures more than once. He thoroughly enjoyed the machines as much as the fresh air. He always had a content look on his face when four-wheeling, building his own truck camper and 26' cabin cruiser boat, riding on "'boggin", giving the tillers and splitters a run for their money, and plowing the driveways and roads in his truck or the "Ho-n-Go."
The a-frame cabin at the end of the lane in North West Arm was his ultimate happy place. He relaxed completely by playing and singing guitar tunes, savouring a good swally and a puff, and having a "time" with dear friends, especially if it involved silly antics, dirty jokes, spinning a yarn, and getting a good rise out of someone. Here, he also generously shared both his cheesies and naps with his four-legged family borrowed from the best of friends.
Hubert was a man of many talents and few words. He definitely preferred the background to the spotlight. The twinkle in his eye has finally become a star in the heavens. Now is his time to shine bright.