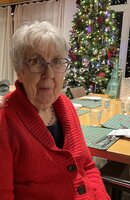 Audrey Bernice Gregory
Audrey Bernice Gregory (née Peyton)
April 19 1936 – January 13 2022
Audrey passed peacefully January 13, 2022 surrounded by loved ones at Elk Lodge, Brookfield, NS. A celebration of life will be held in her beloved Norris Arm NL later in the summer.
A note from the author: Some aspects of this story may be slightly inaccurate, the by-product of a childhood filled with stories that began, "when I was a little girl…" These were the best stories, and Heidi and I hung onto every word.
Audrey was born in Norris Arm to Lucretia and Eli Peyton. She was the 13th of 14 children; seven girls and seven boys. By all accounts her childhood was busy and everyone had their fair share of chores to do, but there was more than enough love to go around. Stories were told of stables filled with horses, men going into the woods to cut lumber, blueberry picking, baby sheep born near Christmas, and an ill-fated bike ride that left her with almost no teeth.
When she was only small, Audrey went on a fishing trip with her elder sister Marjorie, her close friends Ella and Amos Gregory, and their son David. David became fast friends with the little girl with the long braids and later they would reconnect as adults, fall in love, and the rest is, as they say, is history. They loved to dance, play cribbage, and go canoeing together. A love that lasts longer than a lifetime!
Graduating from her one room schoolhouse she decided to go to St. John's to become a nurse. The train slowed down as it passed through Norris Arm and she jumped aboard. She was always so proud to be a nurse and wore her ring with pride. After working with Dr. Penfield at the Royal Victoria Hospital in Montreal, she returned to Newfoundland to become the charge nurse on the Pediatric ward in Gander. She had the walls painted with colourful murals for the children, emblematic of her desire to make every place she went more cheerful. One myth goes that she even went sledding with Fidel Castro! He was stuck in Gander on a layover and went on a tour of the town. Given that there was a thick coat of snow on the ground the opportunity to have fun was not to be missed by Audrey. (I never fully believed this until I found a BBC article detailing Castro's layover in Gander corroborating the sledding adventure.)
The greatest joys of her life were her children – Robert and Bettina. Their childhood was filled with trips to Florida with family and friends, skidooing, fishing trips, and summers at the cabin. These stories filled Heidi's and my childhood while we baked lassy bread or sat next to a big fire eating our breakfasts. She was a woman of enormous strength who was a joy to be around, even while struggling with dementia.
She passed away with her loving husband David by her side on January 13th. She is survived by her husband, son Robert (Susan) and his daughter Lauren, and daughter Bettina (James) and her children Victoria (Matthew) and Heidi (John), sisters Beulah and Betty, as well as numerous nieces and nephews. She will forever live on in our hearts and memories as the fun loving, always dancing, strong woman that she was.
The family would like to extend their heartfelt gratitude to the staff at the Elk Court nursing home who went above and beyond to make her last days full of dignity and comfort.
By Victoria Bentley, granddaughter