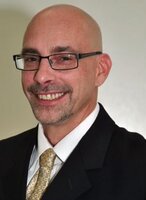 Michael Adrian LeBlanc
LeBLANC, Michael A.- Age 55, Shubenacadie/Arichat
I died January 10, 2022 peacefully and with dignity, at home, surrounded by the love of my family and supported by the prayers of my friends.
I was born in Halifax, the eldest son of Margaret (Pilkington) and the late Aubrey LeBlanc. I am survived by my 4 brothers, Stephen, Rene, Jeffrey, Jeremy; and their families; as well as many LeBlanc and Pilkington relatives. I am grateful for the love and support of Diane and my second family, the Derricks. I have been blessed with deep and rich friendships throughout my life.
Growing up in Arichat in a 4-generation family anchored me to the ideals of home, heart and faith, through triumph and tragedy; and gave me a wealth of material for funny stories and interesting characters. Yes, friends, those were real people, and those things really happened-more or less as I described even.
For many years I worked in support of persons with disabilities. At 47, I returned to school and found my second vocation, becoming a licensed funeral director and embalmer. I apprenticed at Ettinger Funeral Home in Shubenacadie and worked there until retiring due to illness. I am grateful to my colleagues for their mentoring, support and friendship.
I was proud to be a member of C.W. Saunders Masonic Lodge at #125, Elmsdale. Thank you, Brothers, for your kindness, generosity, and fraternal friendship, exemplifying the true spirit of Freemasonry. As well, the Masonic Foundation of the Grand Lodge of Nova Scotia provided much needed assistance and support during an extended period of illness.
Challenges and difficulties are opportunities to find gratitude and grace. As my health declined and I gave up more and more independence, friends, neighbours, colleagues and my community stepped in. Their support allowed me to safely stay in my home and made a difficult year immeasurably better. I am humbled and grateful for your kindness and care. To those steadfast and true friends who sat with me through the hardest days-you brought comfort, light and laughter that saw me through. Thank you. I have been blessed.
Due to COVID-19, a private funeral service will be held 2pm Wednesday, January 12th in Ettinger Funeral Home Chapel, Shubenacadie. Father Michael Walsh officiating. Proof of vaccination will be required to attend, and masks must be worn. Live stream of the service will be available at https://event.forgetmenotceremonies.com/ceremony?c=e87734f3-c084-4a62-9a6e-98bf7f650b68 Spring burial will take place in Preeper Hill Cemetery, Shubenacadie.
Rather than donations to charity, Michael has asked that you honour his memory with acts of kindness and gratitude-that is how we change the world. The family request no flowers, please.
Tributes, words of comfort and memories of Michael may be shared with the family at www.ettingerfuneralhome.com
"Non Omnis Moriar"