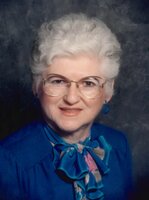 Bernice Marie Donnelly
DONNELLY, Bernice Marie - On January 7, 2022, Bernice Donnelly, of Enfield, peacefully died at the age of 95. She was a resident of the Magnolia Continuing Care Centre, Enfield, whereby her care givers exemplified heartfelt attributes in her last days. Born in Woodstock, NB, she was daughter of the late Lemuel and Agnes (Close) Nickerson.
Bernice was born into a loving home with parents, Agnes and Lemuel and sister, Thelma Nickerson in Woodstock, NB, 1926. In the mid 1940's, she earned two post secondary diplomas with highest honours. Soon after, she began her journey with the love of her life, Tom. Through his work they immersed in the cultures of Quebec and Newfoundland, and built a beautiful homestead in Moncton, NB.
Bernice was an avid reader, astounding gardener, and talented painter. Such merits were recognized with the Moncton Art Society.
Bernice is survived by her son, Brian Donnelly; granddaughter, Charmaine Donnelly-Stapleton, Elmsdale; daughter, Diane MacDonald and family in Alberta.
Her husband, Thomas Donnelly, preceded in death in 1994.
As per Bernice's wishes, there will be no memorial service or funeral.
Tributes, words of comfort and condolences may be shared with the family at www.ettingerfuneralhome.com