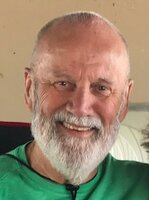 Archie MacLeod
MacLeod, Archibald "Arch" - 77, Halifax/ Summerside. Archie died peacefully at home on December 1, 2021. Born in St. John, N.B, he was a son of the late Rev. A.A. MacLeod and Barbara Grace (Murchison) MacLeod.
Arch is survived by his wife, Carmel (Gillis); sons, Mitchell (Ann), South Melville, PEI; Alexander (Julie), Kensington, PEI; daughter, Rachael MacLeod Stevens (Mark), London, England; stepsons, Michael Wetzel (Marcie); Karl Wetzel (Kelly); grandchildren, Emily, Sarah (Ayden), Bryanna, Tanton, Taylor, Lucas, Tristan, Sophie; step-grandchildren, Mikey, Luke, Mia, Eugene, Liam; great-granddaughter, Maris; many cousins, nieces, and nephews.
He was predeceased by his first wife, Elaine (Tanton), of St. Eleanors, PEI; brothers, Rev. Dr. Hinson (Sue), Col. Bentley (Huguette); sisters, Marion Burns (Ralph), Sandra Thompson (Rev. Kenneth), Barbara Morgan, N.P. (Arthur).
Cremation has taken place under the care and direction of Ettinger Funeral Home, Shubenacadie. A graveside service will be held next summer in St Eleanor's, Summerside, PEI.
Special thanks to Dr. Horrey and all our family and friends who helped us during this difficult time.
In lieu of flowers, donations may be made to the Ecology Action Centre, 2705 Fern Lane, Halifax, NS B3K 4L3.
Tributes, words of comfort, and memories of Arch may be left for the family at: www.ettingerfuneralhome.com
"To thine own self be true."