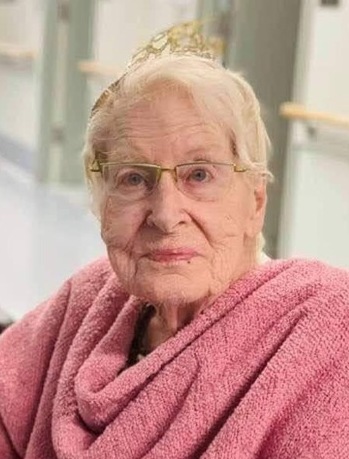 Gerrine Alberta Hiltz
HILTZ, Gerrine Alberta, age 91, of Windsor, formerly of Centre Rawdon, passed away November 6, 2021 in Dykeland Lodge, Windsor. Born in Halifax, she was a daughter of the late Wilfreda (LeRoux) MacIntosh and William Frank.
Everyone affectionately called Gerrine "Gerry" for short. She worked for Sears in her early years before marrying Wilbert "Happy" Hiltz and moving to Centre Rawdon to live and raise her family. She had a great love for her family and also animals with a special interest in horses. After living for many years in Rawdon the family moved to Gypsum Mines and lived there for some years until her husband passed on. She then lived for almost 20 years at her apartment on Burgess Crescent in Windsor. Gerry was an active Legion member who could be seen dancing up a storm every Friday night. David, Brian and Jimmy her sons loved and adored her and she will forever be missed by them and all who loved her.
She is survived by sons, David (Jacqui), of Chester; Brian (Dana), of Windsor and Jimmy (Amanda), of Mount Uniacke; grandchildren Amanda, Kristiane and Jacob; 3 great grandchildren; many nieces and nephews.
She was predeceased by brothers Garfield and Roland.
A graveside service will be held 2 pm Saturday November 20, 2021 in St. Paul's Anglican Cemetery, Centre Rawdon, Rev. Kent Greer officiating.
The family would like to extend their gratitude to the staff of Dykeland Lodge for the care given to Gerry during her stay.
Memorial donations may be made to the Alzheimer's Society.
Tributes, words of comfort and memories of Gerry may be shared with the family at www.ettingerfuneralhome.com