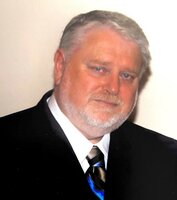 Larry David Matthews
MATTHEWS, Larry David – age 71 of Fort Ellis, passed suddenly from this world in the early hours of October 14, 2021. Born in Halifax, he was a son of the late David and Helen (Digdon) Matthews.
Larry's love of his province and his community gave birth to Hants Realty Ltd. in 1977. As broker/owner, Larry grew his company beyond the county of it's birth and it has remained a flagship of Nova Scotia real estate. His love of life and family have been expressed in his writing and works of art. Larry has amassed numerous business credentials but his love of people and their stories are what drove his desire to help them realize their dreams.
His business motto of "a tradition of integrity and common sense" was a vision statement he was proud of and a life statement his family and company are proud to carry into tomorrow on his behalf.
Larry leaves behind to celebrate his life and legacy his wife, Peggy; daughters, Natasha (Jody) and Kim (George); granddaughters, Lauren and Ava; brothers, Gus (Kim) and Norman, and all the countless lives he changed, whether through business or his personal example of work, faith and family.
Besides his parents, Larry was predeceased by brothers, Roger, Ronald and Brian.
Cremation has taken place. A celebration of life will be held 11 AM Friday, October 22nd, 2021 in Ettinger Funeral Home, 2812 Highway 2, Shubenacadie. Rev. Kim Curlett officiating. Proof of vaccination and one piece of identification is required for those wishing to attend. Masks must be worn inside the funeral home.
In lieu of flowers, donations in Larry's memory may be made to the Heart & Stroke Foundation or to a charity of your choice.
Tributes, words of comfort and memories of Larry can be shared with the family at www.ettingerfuneralhome.com