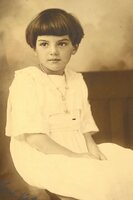 Mary Evelyn Havey
HAVEY, Mary Evelyn - age 105, just shy of her 106th birthday, of Pugwash and formerly of Stewiacke, passed away peacefully on October 1, 2021 in East Cumberland Lodge, Pugwash. Mary was born at home in Stewiacke on November 27, 1915 and was delivered by her father, who was the doctor for Stewiacke and the surrounding area. She was a daughter of the late Dr. Harry B. Havey and Libbie Elta Brown Havey.
Mary enjoyed being out and about for as long as she was able, whether she was picking up the mail at the post office in Stewiacke or admiring the flower gardens at East Cumberland Lodge. She was very much at home at East Cumberland Lodge and over her 16 years there grew strong attachments to many of the staff.
She is survived by her brother-in-law Herb Dow, Saskatoon, Saskatchewan; nieces, Joan Hopkins (Rev. ret'd Selwyn Hopkins), Kingston, Ontario; Margaret Havey, Halifax; Bev, Smithers, British Columbia; nephews, Harry Havey (Karen Dana) Winnipeg, Manitoba; Bill, Vancouver, British Columbia; Doug (Louise), Vancouver, British Columbia; four grandnieces and eight grandnephews; four great grandnieces and five great grandnephews.
Besides her parents, Mary was predeceased by her; brother, Clinton; sisters, Elizabeth Gordon and Frances Dow; sisters-in-law, Mildred Havey and Doreen Havey; brother-in-law, Stewart Gordon.
The family would like to extend their deep appreciation to East Cumberland Lodge for their caring attention to Mary.
Arrangements have been entrusted to Ettinger Funeral Home, Shubenacadie. A graveside service will be held at 2 PM Thursday, October 21st, 2021 in Pine Grove Cemetery, Stewiacke East, Rev. Dr. Matthew Walsh officiating. Everyone is welcome to attend. Proof of vaccination must be shown by those in attendance as well as one piece of identification.
There will be live streaming of the service.
Donations in memory of Mary may be made to East Cumberland Lodge to the Fullerton Garden Fund in Mary's name or to a charity of your choice.
Tributes, words of comfort and memories of Mary can be shared with the family at www.ettingerfuneralhome.com