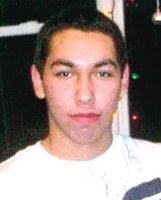 Spencer Andrew Knockwood
KNOCKWOOD, Spencer Andrew – age 26 of Indian Brook, passed away suddenly at home on July 23, 2021. Born in Halifax, he was a son of Billie-Jo Knockwood and Andrew-John Gould.
Spencer was a skilled carpenter. He was a kind and sweet-hearted person and had a love of animals. He was an avid sports enthusiast and enjoyed playing basketball. Spencer will be dearly missed by his friends and many family members.
Besides his parents, Spencer is survived by his grandmother, Harriet (Knockwood) Sack; foster parents, Mindy and Jim Zwicker; siblings, Billy (Monica), Courtney (Jimmy), Andy, Robin, Kaitlyn, Ashley, Bryce, Brody, Willow, Braxton; many nieces, nephews; numerous aunts, uncles and extended family members.
He was predeceased by his grandparents, Clarence Knockwood Sr., John and Rebina Gould; uncles, Clarence, Kevin, Markie; aunts, Anne and Cyrilla.
A wake will be held at 143 Tuff Street, Indian Brook, beginning at 3 PM Monday, July 26, 2021 and ending at 10:30 AM Thursday, July 29, 2021. A funeral service will be held at 11 AM Thursday, July 29, 2021, in St. Kateri's Roman Catholic Church, Indian Brook. Fr. Ron Cairns officiating. A burial will follow in St. Catherine's Cemetery, Indian Brook.
Tributes, words of comfort and memories of Spencer may be shared with the family at www.ettingerfuneralhome.com