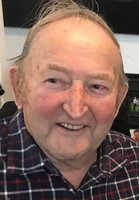 Clinton Everett Matthews
MATTHEWS, Clinton Everett- age 85, of Stewiacke East, born March 3, 1936. Clint passed away in Colchester East Hants Health Centre, Truro on July 9, 2021.
Clint was born in Stewiacke and was one of thirteen children born to the late John Thomas and Irene Victoria (Fisher) Matthews.
Clint was a lifelong dairy farmer who lived and breathed life on the farm up until the last few weeks of his life. At the age of 20, in 1956 he purchased the farm in Stewiacke East where he put his heart and soul into running a dairy farm that was his pride and joy. His appreciation for the land, the dairy industry, and gardening was evident to all who visited him, often wanting to share fresh veggies from his garden. Clint was well known within the community and he was often visited by family, neighbors and friends to find out what was new. He had a sense of humor, and a very recognizable laugh, which often meant he was sharing a joke or teasing his company. In his later years, Clint took up playing the fiddle and often hosted musical afternoons with friends to enjoy music and food. Clint worked hard all his life and enjoyed the simple things. He preferred country life and being home on the farm is where he found his most joy.
Clint is survived by his long time companion, Linda Rice; sons, Derek (Krista), James (Lisa); daughter, Serena (Rodney); step-daughter, Heidi (Jamie); grandchildren, Ashley, Evan, Brandon, Piper and Penelope; great grand daughters, Amelia and Mya; brothers, Arthur, Leslie, Fred; sisters, Carolyn, Cheryl and Mary.
Clint is predeceased by his wife, Avis and infant daughter, Kelly; brothers, John, Harold, Walter; sisters, Lois, Avis and Ruth.
Visitation 6-8 pm Wednesday, July 14, 2021 in Ettinger Funeral Home, 2812 Highway 2, Shubenacadie from where a funeral service will be held 2pm, Thursday, July 15, 2021. Interment to follow in Pine Grove Cemetery, East Stewiacke.
Tributes, words of comfort and memories of Clint may be shared with the family at: www.ettingerfuneralhome.com