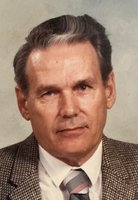 George Ross Barbrick
BARBRICK, George Ross – age 93 of Shubenacadie, passed away peacefully on Wednesday, June 23rd, 2021, in Magnolia Continuing Care, Enfield. Born in Admiral Rock, he was a son of the late Dempster and Eva (Nelson) Barbrick.
George worked for 38 years at Maritime Tel & Tel. He was a founding member of the Shubenacadie Fire Brigade and was a lifelong member of the Shubenacadie United Church. George was of the school, "use it up, wear it out, or do without", as was evident with the last car he owned having driven it for over 19 years. He cared deeply for his family and his friends. His way of showing he cared wasn't shouting it from the rooftops but by always being there when anyone needed a helping hand. A quiet, kind man, he will be missed so much.
George is survived by daughters, Linda (John); Arlene; Cynthia; Shelley (Ross); Becky (Brian); son, George Jr. (Dale); 14 grandchildren; 15 great grandchildren; 6 great-great grandchildren; sister, Lois Spares; sisters in law, Frances and Pearl; many nieces and nephews.
He was predeceased by his wife of over 60 years, Hazel; brothers, Nelson, Bruce, Allen; sister-in-law, Marjorie.
Cremation has taken place under the care and direction of Ettinger Funeral Home, Shubenacadie. A private graveside service will be held at a later date.
The family wishes to thank the staff at the Magnolia for their special care during George's final illness.
Tributes, words of comfort and memories of George may be shared with the family at www.ettingerfuneralhome.com