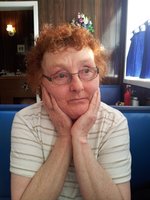 Shirley Ann Collins
Shirley Ann (Peck) Collins, 2 June 1945-28 May 2021
Second of the nine fabulous "worker bees" born to Kathleen Shirley Peck, our beloved "Queen Bee", Shirley grew up assisting in rearing her younger siblings, and rejoiced in their and their families' triumphs.
Shirley was a loving Daughter, Sister, Auntie, Mother, Second Mom, Mother-in-law, Gram, and Gee-Gee. A best friend to many, she was an amazing woman to all. It would be easier to list what she wasn't than all that she was. She was blessed with many friends from the T-Shirt room at Stanfield's', Colchester Community Services, Eastern Star functions, the South Maitland Country Store, and just about anywhere people gathered. Early in life she assiduously pursued gymnastics and skating, dreaming of being the next Sonja Henning.
Shirley rejoiced in helping, nurturing, supporting, cheerleading, comforting, and so much more. Ironing, biscuit making, and hamburger frying, not so much. To fund our childhood extracurriculars, she sold mountains of Girl Guide cookies, grapefruit, and chocolate covered almonds. She tirelessly supported our dreams and adventures, and gave our lives an immovable foundation of love on which to build.
Her time operating the South Maitland Café left Shirley with many fond memories of shenanigans on the doorstep, not to mention greatly improved pastry skills. She treasured the simple joys in life: the natural world, seeing new places, enjoying the landscape around her, and watching her loved ones thrive. Shirley also shared her deep love for music with everyone, usually at maximum volume in her car.
Like most of us, Shirley fell into and out of jobs, careers, love, and marriage. Unlike most of us, she did it with enduring grace and an unwavering moral compass that always showed her children the way home.
If you have ever watched Shirley dance, eaten her pies, shared an invisible baseball or real basketball game, or had the privilege of basking in the sunshine of her love…
You're welcome. Pass it on.
Cremation has taken place under the care and direction of Ettinger Funeral Home, Shubenacadie. No service by request.
Donations in Shirley's memory may be made to Cobequid Wildlife Rehabilitation Centre in lieu of flowers.