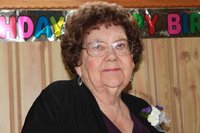 Pearl Patricia Neil
NEIL (MacPHEE) (nee Maclearn), Pearl
It is with heavy hearts that we announce the passing of Pearl Patricia, age 98 of Upper Rawdon on March 9, 2021.
Pearl peacefully left our world, guided by her family who tenderly cared for her and granted her wish to remain at home in Upper Rawdon, where she raised a large family and lived among them not only as a mother, grandmother, and often friend but as a family matriarch guiding, educating, and offering what was needed to keep them all united.
Pearl was a remarkable lady. Having faced many adversities in her life, she challenged and learned from them. Pearl was an avid traveler. She proudly shared that she had visited every continent worldwide, she kept an atlas where she marked every place she had been to. She loved to share her adventures with her family or with anyone that had the time to listen. She also spoke publicly on several topics. Before there was google you dialed 632-2547 with questions, there weren't many she couldn't answer. She was often referred to as a walking encyclopedia. When at home she continued her adventures with books, she loved to read and learn. Pearl was an accomplished teacher and then principal in Hants County. She loved her students and was always available to tutor anyone anytime.
In her younger years she played soft ball. She was a catcher on several teams. She was also a huge Toronto Blue Jays fan.
Pearl was a champion bridge player. She played all over Canada where she was awarded many ribbons for her game play.
Pearl loved to cook and bake, was famous for her rolls, pickles and pies. She was the matriarch in her family, having organized several family reunions and major events. She had a knack for delegating and ensuring that everyone knew their role.
Pearl also enjoyed gardening, was a member of the garden club and had a natural green thumb. She spent several hours amongst the many trees and plants she grew in the yard.
The family often told stories of the continuous love Pearl showed not only to them but the community and people she met during her travels. She fostered children in third world countries supported the local church and offered help and support to anyone in need.
Pearl was a strong, independent, generous, and loving woman. She did not hesitate to stand up for what she believed in including women's rights.
She is survived by her children, Shirley (Junior) MacPhee, Heather MacPhee (Mark), Ronnie (Belinda) MacPhee, Dennis (Becky) MacPhee, Ross MacPhee, Bruce (Teddy) MacPhee and Kris (Bonita) MacPhee; 23 grandchildren, 40 great grandchildren and 14 great-great grandchildren.
Pearl was predeceased by parents, Jeffus and Nellie Maclearn; husband's, Gerald MacPhee and Lorne Neil; Son, Charlie; Daughter in law, Marilyn; sisters, Audrey, Della, and Annie; brothers, Wilfred, Norman, Murray, and Bernard; grandchildren, Jordan and Ashley.
A visitation was held on Wednesday, March 10th in Ettinger Funeral Home, Shubenacadie. Cremation has taken place , a Celebration of Life will be held at a later date.
In lieu of flowers donations can be made to the CNIB, 1929 Bayview Avenue, Toronto, ON, M4G3E8 or the Upper Rawdon Cemetery, c/o Sarah Withrow, 2129 Hwy. 14, RR1 Rawdon, NS, B0N2N0 or a charity of your choice.
Tributes, words of comfort and memories of Pearl may be shared with the family at www.ettingerfuneralhome.com