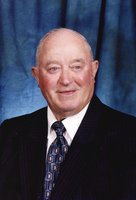 Borden George McLellan
McLELLAN, Borden George – of Milford Station, the family of Borden George McLellan are saddened to announce his death at the age of 88, in the Colchester East Hants Health Centre, Truro, on March 8, 2021. Born in Marie Joseph, Guysborough County, he was a son of the late George McLellan and Bertha McLellan - Sproutt.
Borden's working life started as a young man going west but returning to the East – Working for National Gypsum Co., Tidewater Construction, and finishing his career with the Shaw Group – retiring as one of the Partners. Borden was fortunate to have made many long-lasting friendships during these working years. Over the years Borden was active in the industry organizations, he was a Charter Member of the Milford & District Lions Club and was a founding member of the Milford Recreation Association. He operated the Quarry Workers Credit Union from the basement of his home in the late 60's. He was also a member of the Milford Lantz United Church – serving on the Steward's Committee as envelope treasurer for many years. Borden had a very enjoyable retirement, working on the woodlot, hunting and spending time at the camp in Melrose. He also enjoyed fishing, especially salmon fishing and made over 70 fishing trips to Clearwater Brook Camp, New Brunswick. He and Amy enjoyed trailering, did a number of cruises and enjoyed their condo in Florida. He was an avid card player.
He is survived by his wife of 62 years, Amy (Austin); son, Jeffrey (Laura Lee); daughter, Bonny MacDonell (Edward); two beloved grandsons, Riley and Evan, whom he was very proud of; sisters, Myrna McLellan, Helen Williams, Sandra Brown; brother, George McLellan, several nieces and nephews.
He was predeceased by infant son, Larry Paul; brother, Cyril; sisters, Elizabeth and June; half brother Trueman McLellan. A funeral service will be held 2pm, Friday, at Ettinger Funeral Home, 2812 Highway 2, Shubenacadie, Rev. Gerry Kerr officiating assisted by Lori Crocker, D.M. COVID-19 protocols will be followed, social distancing and mask-use is required.
The family would like to extend their thanks to the dedicated surgeons and medical staff who have assisted him with his medical care, extending his life by many years.
If so desired, memorial donations may be made to the Heart and Stroke Foundation, Milford and District Lions Club or the Milford Lantz United Church.
Tributes, words of comfort and memories of Borden may be shared with the family at: www.ettingerfuneralhome.com