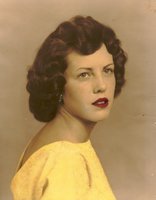 Marjorie Ellen Matheson
MATHESON, Marjorie Ellen (Dalrymple) — of Nine Mile River, passed away peacefully, after a long battle with Alzheimer's, at the Magnolia Continuing Care Community in Enfield on August 13, 2020, at age 80.
Marjorie was born in 1939 in small house overlooking the railroad crossing on the main street in Enfield, NS. She grew up on the Dalrymple family farm that colloquially has been referred to in earlier times both being in Hardwood Lands (where she attended school) and Lower Nine Mile River. A river runs through it, where as a young girl Marjorie discovered her love of trout fishing. For that era, her mother Viola was from a strange and exotic land, having emigrated in the 1930s from Chihauhau, Mexico, where Marjorie's father Harold had worked, and where some of her siblings were born. Hence her life-long love of Mexico and its culture. Countless extended family members, descendants of Marjorie's aunts and uncles, still live there.
In her early career, Marjorie lived in Halifax and worked as a secretary at Stuart House, but soon returned to the countryside and a newly built home in Nine Mile River. A career with the Royal Bank of Canada followed; first Shubenacadie, then Elmsdale, from where she retired in 1993. In the 1960s–1970s, Marjorie was highly active in organizing for the Liberal Party of Nova Scotia. She also worked alongside Lloyd in his municipal election campaigns, supporting his 40+ years as Councillor and later Warden for Municipality of East Hants. Her busy career, community and family life was made more manageable with the long-time support and hard work of 'housekeeper/chosen family member' Wendy McCorkill. At home, Marjorie loved to cook, equipped with an extensive collection of international cookbooks, and was especially fond of making pies, biscuits, pickles and jam. In 1994, Marjorie compiled and published "Out of Grandma's Pantry", a collection of traditional older recipes from her surrounding communities, which featured her Dalrymple grandparents' original home on the family farm. Whether gliding across the dance floor, tapping a toe at a country jamboree, organizing the monthly Social Night or working the door taking tickets, the Nine Mile River Community Centre played a large role in her social life. An avid oil painter, Marjorie studied often in continuing education art classes. She had a difficult time driving by a yard sale and never met a 25-cent deal she could turn down. In the early 1980s, Marjorie and Lloyd purchased the Dalrymple homestead and moved to 'the farm', their last family residence. She still went trout fishing a few times in her seventies.
She is survived by her children Wendy Matheson-Withrow, Brandon (Dan Falkenham), Todd, and Troy (Shauna), her brother Donald Dalrymple (Bea Demont). Her life was enriched with wonderful grandchildren: Melissa, Melanie (Paul Fleming), Miranda (Tony Breau), Michael (Jan Isenor) and Mitchell Withrow (Koral Lazzarotto), Nikita (Brandon Horne), Katlyn (Spence), Julia, Sydney (Greg Hurshman), Dalton, Rachel, Braylin and Adrian (Matheson), and Denise (McCleave); and great grandchildren — Landon (Withrow), Finnley and Fletcher (Fleming), Lila, Lucy and William (Breau), Dallas and Lucas (Matheson), Emily and Nathan (Hurshman), Anthony, Nikole and Colson (McCleave); Jolie Potter, Jenson Horne, Quinn Withrow and Beckett Hines. She was 'Aunt Marj' to 19 nieces and nephews.
Marjorie was predeceased by her husband Lloyd, companion Jim Bouchie, her parents Harold and Viola (Frink) Dalrymple, brother Frederick and sister-in-law Sandy, and sister Helen Bell (Robert), niece Randi Dalrymple, and brothers- and sisters- in-law William and Lilian (Matheson), Buster and Evelyn (George) and Earle (Matheson).
The family extends special thanks and gratitude to the staff at Magnolia's Honeysuckle wing for their care and support.
Cremation has taken place under the care and direction of Ettinger Funeral Home, Shubenacadie. A private family-only visitation and service, followed by burial ceremony at Sandy Hill Cemetery, which from across the river faces Marjorie's family homestead.
In the hope of bringing light to the overwhelming suffering caused by Alzheimers the family has made the decision to donate Mum's brain to the "Maritime Brain Tissue Bank" for critical research.
In lieu of flowers or visitation, donations may be made to the Alzheimer Society of Nova Scotia, MS Society Atlantic Division or the NSHA's Cancer Care Program.
Tributes, words of comfort and memories of Marjorie may be shared with the family at www.ettingerfuneralhome.com.