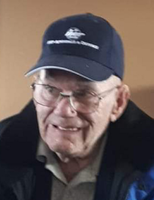 William Elroy Dingle
DINGLE, William E. - was born April 24, 1940 in Truro, Nova Scotia. Bill passed away very peacefully on June 11, 2020, at home, with his family holding him. He had a beautiful death, just the way he would have wanted it to be.
His dad taught him how to fish on the Shubenacadie River, which he did for almost forty years. Bill worked at L.E. Shaw's in Lantz for many years. After obtaining his G.E.D. he went on to become a heavy-duty mechanic and then B. J. McPhee Trucking for a number of years. Bill owned Dingle's Sporting Goods for over five years in Shubenacadie. As a Heavy Duty Mechanic he worked at Les McLean's (Truro) and then T & R Truck Repair, where he retired from working.
Bill was an affiliate member of the Royal Canadian Legion, Shubenacadie and an Elder in the Shubenacadie United Church. He enjoyed working on the Boys Scouts Committee to raise money for his son and others to go to the Jamboree in BC. He spent many years on the Shubenacadie Recreation Committee to raise money to install lights on the ball field as well as looked after the Bingo program to raise money. Bill was also a founding member of the East Hants Sportsplex.
He survived by his wife of fifty-six years, Sharon (Mitchell) Dingle, his son, Christopher Dingle (Bo and stepdaughter, Mollie); his daughter, Diana Dingle (Glenn); and his beautiful grandson, William Dingle. sisters, Stella Langille, Helen (Michael) Myer; brother, Leroy (Myrna) Dingle; brother-in-law, Gerald Mitchell (Elizabeth); sisters-in-law, Darlene Atkinson (Cecil Parker) and Wendy Newton (Roy Barnett); many nieces and nephews.
Bill was predeceased by his dad, Lincoln Dingle; his mother, Elvie Turple- Dingle; half-brothers, Vernon, Ernest and Earl Dingle.
A visitation will be held 6-9 pm Monday, June 15th at Ettinger Funeral Home, 2812 Highway 2, Shubenacadie. This will be held following Covid-19 provincial guidelines. A private family service will be held 3 pm Tuesday, June 16th, which will be livestreamed. You can view this on Bill's memorial on the funeral home website or at https://distantlink.com/ettingers.html .
Burial will follow in Pine Grove Cemetery, Stewiacke.
Tributes, words of comfort and memories of Bill may be shared with the family at www.ettingerfuneralhome.com