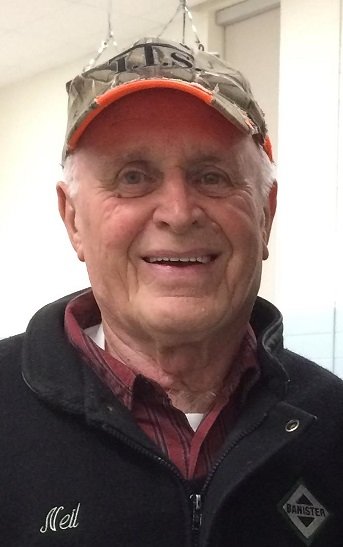 Obituary of Neil Simm
SIMM, Neil Morton Age 81 of Mount Uniacke passed away July 22, 2017 in Hants Community Hospital with his loving family by his side. Neil was born June 10, 1936 a son of the late Earle and Adeline (Bond) Simm.
Neil loved many things, but family and music were most important. In the past few months despite many challenges, he got to meet his first great granddaughter, Saoirse, celebrate and dance his heart out at Jacob and Yana's wedding and attend the Bluegrass Festival at Fox Mountain. Neil was an Accountant by profession, he loved to have his own yard sales, playing golf and was also a huge Montreal Canadians fan. He worked at the Uniacke House for a number of years and was instrumental in clearing the walking trails at the Uniacke Estate Museum Park. He loved his wood yard and worked at it diligently until his passing. Neil had also been very active in the Uniacke Fire Dept, St. Paul's United Church, minor hockey and baseball.
Neil is survived by his loving wife of 56 years Millie (Lively), his children Greg (Donna), Glenda (Stephen) Bond, Garth (Nicole), Georgie (Dean)Caldwell, Gavin and Glendon. Grandchildren Meagan (Nigel) Jahrles, Jacob (Yana) Tan, Wallace,William, Allie, Ben, Emma, and Kate. Great Granddaughter Saoirse Jahrles and"daughters" Joan White and Andrea Brant; brothers Judd (Evelyn), Charlie, Marvin (Jay), Donald and Barrie. Many nieces, nephews and cousins. Besides his parents he was predeceased by sisters Claire Deal, Barbara Scott and Audrey Simm, brother Dannie Simm, parents in-law Wallace & Mae (Lynch) Lively, nephew Kane Simm and niece Karen Simm.
Funeral arrangements have been entrusted to Ettinger Funeral Home, Shubenacadie. The visitation will be Tuesday July 25, from 2-4pm and 6-8pm and the Funeral will be Wednesday July 26 at 2pm, all to take place at St.Paul's United Church Mt. Uniacke, 293 Etter Road, Rev. Angus R. MacDonald to officiate.
Reception to follow and burial at a later date.
Donations may be made to Uniacke Wish Givers or Palliative Care Unit, Hants Community Hospital, Windsor.
Condolences, words of comfort and memories of Neil may be shared with the family at www.ettingerfuneralhome.com