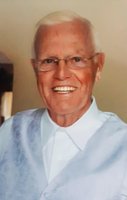 David Garnet O'Grady
O'GRADY, David Garnet
of Fall River, passed away March 29, 2018. David was born to the late Harold and Alfreda (Bateman) O'Grady of HRM, on September 9, 1939. He was predeceased by his loving wife of 48 years Joan (Poole) O'Grady.
David is survived by his daughter Charlene Dort (Harold Jr.); son, Steven (Tara) and sisters Madeline MacDonald (Bernie); Shirley McKinty; grandchildren Keira Dort, Kyle O'Grady and Kayla O'Grady and many loving nieces and nephews.
Cremation has taken place. A funeral mass is scheduled for 10:00 a.m. Friday April 6, 2018 at St. Rose of Lima Church, 9 Jamieson Avenue, Fall River, Reception following in the church.
The family would like to thank those who took care of him on 3D, Colchester East Hants Health Centre during his brief stay.
Condolences, words of comfort and memories of David may be shared with the family at www.ettingerfuneralhome.com