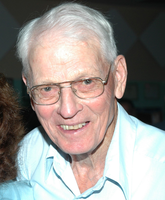 H. Keith Stephens
STEPHENS, Harold Keith - Tenecape. It is with sadness that we share the passing of Harold Keith Stephens in Windsor, Nova Scotia on Sunday 25 March 2018. Keith was born in his beloved Tenecape, Hants County on 24 June 1923. All of his six siblings were also born at the family home in Tenecape.
Keith was the son of Harold and Georgina (Fisk) Stephens. From an early age, Keith demonstrated a keen entrepreneurial spirit and successfully ran H. Keith Stephens Lumber Limited and Windsor Supply Company for many years. Keith loved his sawmill and the woods and being productive. He provided employment for many people over the years and had many friends across Hants County and was well respected.
Keith was known as a "country gentleman" who always treated others with fairness. From an early age he was fascinated with flying and was proud to earn his pilot's license and fly his own airplane for many years. A highlight of his life was flying to Wichita, Kansas to pick up his Cessna and fly it back to Nova Scotia. At Stanley Airport and "Tenecape International" Keith loved to take people "up for a flip" and he was recognized in 2007 as a lifetime member of the Stanley Flying Club. On his 90th birthday the pilots from Stanley came together to do a fly past over Tenecape.
He also loved travelling, fiddle music, and was a beautiful dancer. He remained keenly interested in the news and politics of the day and always maintained his quiet and dry sense of humor.
Keith cherished his siblings and was happy to come together with them for special occasions, the most recent a large Stephens family reunion in July of 2017.
Keith was predeceased by his former wife, Constance Vera Stephens; his daughter, Sandra Christine; and his siblings, Margaret Redden, Claire Barker, Phyllis Stephens, and Ronald Stephens. He is survived by his daughter, Dr. Heather Stephens (David Lacey), Halls Harbour; sisters, Elma Swinamer (Windsor), Joan Boland (Wolfville); longtime companion, Mary Redden, Haliburton House, Windsor; children, Wade Redden and Kim Redden; grandsons, Scott Greeno and Louis Redden; his great-grandson, Rylan Greeno and many nieces and nephews.
Heather would like to thank Peter Lane and also the staff of Gladys Manning Residence in Windsor who lovingly cared for Keith over the past four years and allowed him to be independent to the end.
Cremation has taken place with private interment at a later date. Keith's memorial stone is located at Moose Brook Cemetery in Hants County. There will be no visitation or funeral service by request. Arrangements have been entrusted to Ettinger Funeral Home, 2812 Highway 2, Shubenacadie, Nova Scotia, B0N 2H0
Donations may be made to the Walton Fire Department, Noel Fire Department, Moose Brook Funeral Chapel or a charity of your choice. Condolences, words of comfort and memories of Keith may be shared with the family at: www.ettingerfuneralhome.com
Safe flight, Keith! As you always said, "Fly low and slow!"