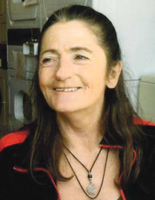 Bonnie Darlene Harnish
HARNISH, Bonita "Bonnie" Darlene – Age 61, Born April 6, 1956, passed away March 4, 2018, in Colchester East Hants Health Centre, Truro surrounded by the people she loved most.
She is survived by her three children, Daniel(Sherry) Ingraham, Christopher (Stephanie) Ingraham, and Brandie (Kraig) Ingraham; her husband, Richard Brolly; her sister, Shelly (Rick) Shaughnessy; her grand children, Felisha, Matthew, and Gabrielle; her dearest friend, Liz Schwartz; and her pets, Rolo and Mondo. She was predeceased by her father, Harold "Harry" Sinclair Harnish; her mother, Marion Elizabeth Parker; her sister, Sandra; her son, Peter; and her granddaughter, Story.
Bonnie touched the lives and hearts of everyone she met. She was the most incredible, fun loving spirit you could imagine. Bonnie was a wonderful, caring mother, wife and friend to anyone who would show her kindness. She spent her childhood in Halifax, later moving to Hants East. Bonnie was a long- standing resident of Milford Station, and was active in her community for many years as a volunteer for the Milford Fire Hall, Milford Recreation Centre, Eclipse Trail Rides, and she was also a CHAPS member. Bonnie dealt with years of pain and discomfort due to her medical conditions, and while her death was sudden and so early in her life, her loved ones take comfort in the fact that she is no longer in pain. We love you Bonnie; you are forever in our hearts, and we will tell stories of you until the end of time. We hope to continue restoring her property in her memory. If you wish to help in the restoration of Bonnie's family home, please contact: brandieingraham@gmail.com.
Cremation has taken place under the care and direction of Ettinger Funeral Home, Shubenacadie. A Celebration of Life service will be held at 1:00 p.m. Saturday, April 7, 2018 at her family home, 2079 Highway #2. Condolences, words of comfort and memories of Bonnie may be shared with the family at: www.ettingerfuneralhome.com