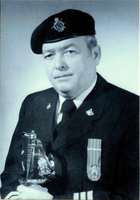 Colonel Donald P. Henderson
Henderson, Colonel Donald P, CD (Ret'd) – Halifax. Colonel Don Henderson was born on 29 February 1928 in Truro, NS, the son of S. Percy and Hatti (MacDonald) Henderson. Upon graduating from Truro High School in 1946, he worked in various positions, including Chief Clerk at the Bank of Nova Scotia and Assistant Accountant at the Nova Scotian Hotel.
In 1964, he began working for Weldwood of Canada Ltd. as a salesman. Eight years later, he was promoted to Branch Manager of the Company's Nova Scotia Division. In September 1982, Don was promoted to the position of Atlantic Regional Manager where he maintained full profit and loss responsibility for Weldwood of Canada Ltd's operations in Atlantic Canada.
Having retired from Weldwood of Canada Ltd in1986, he accepted a three-year contract as the Atlantic Regional Technical Sales Coordinator for Steelway Building Systems in that same year. In 1990, he joined the Canadian Corps of Commissionaires and was appointed as the Adjutant, a position he held for two years.
Throughout his civilian career, Don was an active member of the Canadian Army Reserve, joining in 1946 as a private in the North Nova Scotia Highlanders. He was commissioned in 1952 and served with the Princess Louise Fusiliers and the West Nova Scotia Regiment. He also spent a year in the Regular Force with the Royal Canadian Air Force.
In 1974, he was promoted to LCol and graduated from the Militia Command and Staff Course at the Canadian Land Forces Command and Staff College (CLFCSC) at Fort Frontenac in Kingston, ON. At that time, Col Henderson was also the Commanding Officer of the West Nova Scotia Regiment, a position he held until 1977. Colonel Henderson believed that one of the most important abilities an infantryman could possess was skill at arms, and so he became a great supporter of individual and team marksmanship. His command was a period of great success for individual and team competitive shooting for the West Novas; many shooting trophies were collected by the unit during those three years. Another achievement of which the Colonel is proud is the revitalization of the WNSR Band. As well, during his term of command, the WNSR, a Reserve infantry battalion, won the Mary Otter Trophy which is the award for the top military first aid team in Canada, an award much sought after by every medical company in the nation.
After command of the West Novas, Colonel Henderson was transferred to Atlantic Militia Area HQ in 1977 where he served as Senior Staff Officer Operations and Training until 1980. At that time, upon promotion to colonel, was appointed Commander of Western Nova Scotia Militia District 1980-83. Additionally, he served as a member of the Directing Staff at CLFCSC at Fort Frontenac, Kingston, ON, and he was appointed Honorary Aide-de-Camp to Governor General Ed Schreyer until he retired from the Army Reserve in 1983.
Col Henderson was appointed Honorary Lieutenant Colonel of the West Nova Scotia Regiment and served six years 2005-2011. He is the recipient of the Canadian Forces Decoration (CD) with the second clasp, and he was also awarded the Queen's Silver Jubilee Medal.
Col Henderson was an active member of the West Nova Scotia Regimental Advisory Council as well as a member of the Taekwondo Federation, Black Belt 2nd Dan. He was a member of the Army Museum, where he had great enjoyment as a volunteer at the Halifax Citadel Army Museum.
He was predeceased by his parents, brother Harold, (Greta) sister Pauline, (Gordon Pyke) and sister Verna (Gamble).
He is survived by his loving wife of 61 years Gertrude (Trudy Gass), daughter Nancy Zwaagstra (Don), daughter Elizabeth Wilkes (Peter), son D. Paul Henderson (Joanna) and grandchildren Michael Zwaagstra, Lucas Zwaagstra, Lauren Wilkes, Brooke Henderson, and Grace Henderson.
Cremation has taken place under the care and direction of Ettinger Funeral Home, Shubenacadie. Funeral service will be held 11am Friday, February 23 in St. Peter's Anglican Church, 3 Dakin Drive, Halifax, Rev. Elliot Siteman officiating.
The Family of Don Henderson would like to extend a special thank you to the medical staff of Unit 8.2, the Halifax Infirmary and to Dr. David Wood, the physio team and so many special nurses from the Progressive Care Unit - 9 Lane for the tireless effort and comfort given to him during his time of need.
Condolences, words of comfort and memories of Don may be shared with the family at: www.ettingerfuneralhome.com