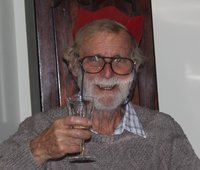 Arthur Morris
MORRIS, Arthur - It is with immense sadness that we announce that Arthur Morris passed away suddenly in his home near Elmsdale, N.S. on February 7, 2018.
Born to Thomas and Rachie Morris (Pulsford), he was predeceased by his wife of 66 years, Dorothy Morris (Ronald) and his younger sister, Eleanor Williams. He is survived by his youngest sister, Margaret Evans and her family. He is also survived by his children, Wendy, Brian (Stephanie), Susan (Brian), and Andrew; grandchildren, Cori, Ruth, Erik (Alicia), Tegan and great-grandchild, Ray. Born in Toronto to Welsh immigrants, the family returned to England in 1938 to Chingford, just in time for World War II where they all survived the Blitz.
Arthur left school at 15 and joined Reuters but quickly decided it did not suit his thirst for knowledge or adventure. At age 17, he threatened he would run away to sea if his parents didn't sign the papers for him to join the Royal Navy. He joined the Royal Navy where he quickly caught the attention of his senior officers and was one of only three men in the Royal Navy at that time to follow the path to commission. He graduated from the Institute of Mechanical Engineers and also became a Diving Officer.
Arthur met the love of his life, Dorothy, in 1947, when he bumped into her at a skating rink in Dunfermline, Scotland, and they were married on April 30, 1949 in Scotland.
Arthur always wanted to return to Canada, and the young family settled here in 1961 as Arthur had transferred to the Royal Canadian Navy. He retired in 1974 as a Commander, having served on different ships including HMCS Bonaventure and HMCS Nipigon. He was cited for bravery for taking charge and saving lives during the fire at sea on board HMCS Nipigon. He was the Commander of NETE (Naval Engineering Test Establishment) in Lasalle, Quebec and oversaw the design of the Tribal class destroyers.
After his retirement from the CAF (now RCN), he joined with his good friend, Lucien Ledaire, and formed the company Ledaire, Morris and Associates, Architects and Engineers. They designed or redesigned many office, commercial, industrial and apartment buildings including Scotia Stadium at Cole Harbour Place, Pope John XXIII Church, as well as the bandstand at Sullivan's Pond.
Upon retiring for the second time in 1986, he and Dorothy sailed the high seas for 13 years on their boat Cabot's Mathew. They visited over 40 countries from South America to Norway, Turkey and the Black Sea, including spending six months in Paris. They had many adventures and side trips including climbing one of the pyramids at Giza, Petra in Jordan and trekking in Nepal.
The stories Arthur told captivated people wherever he went. He continued to learn, travel and make new friends right till the end, having been on safari in Kenya in November 2017. Anyone that had the incredible pleasure to meet him would attest to the amazing soul that he was. He had many interests including ham radio (VE0FC and VE1FCA) and spent many happy hours chatting with and supporting a large network of friends that were very dear to him. Arthur and Dorothy were avid skiers and Scottish Country Dancers in their younger years and were members of the Halifax Field Naturalists. They both loved to read and Arthur had an insatiable thirst for knowledge that continued right to the end. He loved to share his stories and experience with those who needed help or advice, whether it be family or friend. Arthur met many strangers but he always left the encounter with a friend.
Arthur has been cremated as per his wishes. Celebration of Life to be held at Brightwood Golf and Country Club, 227 School Street in Dartmouth, Sunday February 25th from 1pm to 4:30pm. Friends of Arthur and family are all welcome at the gathering to share memories and stories. Please email to: ettingerfuneralhome@hotmail.com or phone 902-435-2608 if you will be attending. Donations in Arthur's memory can be made to the Salvation Army.