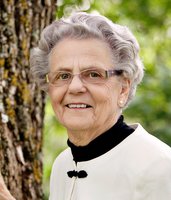 E. Blanche Tanner
TANNER, Elsa "Blanche" age 89, Hardwood Lands. Died peacefully at home, exactly as she wanted, on February 2, 2018, surrounded by the love of her family.
Born August 8, 1928, to M. Alice (Gay) and Egbert L Caldwell, she lived all her life in Hardwood Lands. She taught school and in 1949 married Earle A. Tanner. They were together 65 years.
Blanche was a lifelong learner. Over the years, her children remember her engaged in activities such as First Aid, painting, woodworking, sewing, rug hooking, bookkeeping, ceramics, line dancing, curling, piano, computer and much more. She was a member of the Milford Lantz United Church, Milford UCW, and a charter member of the Hardwood Lands WINS.
She and Earle were avid dancers and also enjoyed local music jamborees, heavy horse and forestry shows, community suppers and their family.
Grieving her passing are her children Helen (Lorne) Ferguson, Everett (Janet) Tanner, Linda (Robert) Atkinson and John (Sharon) Tanner, grand children Lori Tanner (Stuart Kemp), Matthew (Lucinda) Ferguson, Stephanie (Jason) Doutre, Nicole Tanner (Glenn MacCulloch), Liam Atkinson (Jen Cochrane), Neil Atkinson, Jessie (Andrew) Lipsit, Katie (Chris) Cawthra, and Colten Tanner, great grandchildren Abbie, Chloe, Eamon, and Alice, sister Mary Boylan and sisters in law, Helen Caldwell, Elizabeth Caldwell and Jean (George) Ellis. Besides her parents, husband Earle, son Donald in infancy, and brothers Egbert and Kenneth Caldwell predeceased Blanche. Also mourning her passing are large circles of rug hookers, dancers, quilters, her church family and special friends Bea and Lou Ryan.
Cremation has taken place. Visitation will be 6-8:30 pm Wednesday, February 7, 2018 in the Ettinger Funeral Home, Shubenacadie, from where a funeral will be held 2 pm Thursday, Lori Crocker DM officiating. Live stream of the service will begin at 1:55 pm AST, click on "Live stream of Service" on Blanche's online memorial or go to http://distantlink.com/ettingers.html to view the live feed.
Family flowers only please. Donations in Blanche's memory can be made to the Milford Lantz United Church. Blanche's family wishes to acknowledge the extraordinary professionalism and support of Dr. David Sheehy, Jackie Wallace, those in the Palliative Care and VON services and friends and neighbours who accompanied us on this journey.
Condolences, words of comfort and remembrances of Blanche may be shared with the family at www.ettingerfuneralhome.com.
"Love you to the moon and back".