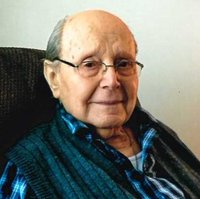 Frank John Dimaio
Obituary of Frank Dimaio
DIMAIO, Frank J. – age 101, Lantz, passed away peacefully in Colchester East Hants Health Centre, Truro on January 26, 2018. He was a son of the late Anthony and Jennie Dimaio. Frank was born and raised in New York City and came to Nova Scotia upon his retirement.
Frank was predeceased by his brother, Vincent and sister in law, Florence; his first wife, Emily Graves, of Chester; his second wife, Helen Stevens, of Lantz.
He is survived by his cousin, Lillian Pappas and her husband, Bill, who have a very loving family of children and grandchildren.
During World War II, Frank served in the United States Army with honour and distinction. After the war, he was employed by various New York newspapers.
Frank often remarked about how grateful and fortunate he was to have acquired so many kind and caring friends here in Nova Scotia, and he wished to convey many thanks to all who assisted him during his disability. A very special thank you to Dr. George Burden, Dr. Arif Samad, and Dr. James R. MacNeill, as well as all other doctors and medical staff.
Arrangements have been entrusted to Ettinger Funeral Home, 2812 Highway 2, Shubenacadie from where visitation will be held 6-8pm Wednesday, January 31. Funeral Service will be 2pm Thursday, February 1, also in Ettinger Funeral Home, Rev Canon David Fletcher officiating. A reception will follow in the funeral home hospitality area. Spring interment in St. George's Anglican Cemetery, Dutch Settlement.
Because our vision is so important, the loss of it can be devastating; therefore, in lieu of flowers memorial donations to the CNIB would be greatly appreciated.
Condolences, words of comfort and memories of Frank may be shared with the family at: www.ettingerfuneralhome.com
Print
Add Condolence
Our most sincere sympathies to the family and friends of Frank
John
Dimaio 1916 2018.source
Death notice for the town of: Shubenacadie, Province: Nova Scotia