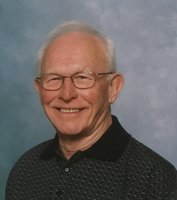 Clifford MacKenzie Fraser
Clifford MacKenzie Fraser
February 21, 1930 – January 5, 2018
My good friend and dear husband of almost 64 years, Clifford MacKenzie Fraser, has passed away. He was a real gentleman, somewhat of a character and quick with a big smile. He entered this world on February 21, 1930 and departed on January 5, 2018 in the Northumberland Hills Hospital, Cobourg, Ontario. He was born in Elmsdale, Nova Scotia to the late Braden and Edith Fraser. He spent 3 years in the Armed Forces where he earned a certificate in Auto Mechanics and worked at that trade for a number of years. In 1964 he went to work for Atlantic Remanufacturing Co in Moncton, New Brunswick as Sales and Service Representative and traveled Nova Scotia, Newfoundland and Prince Edward Island, retiring in 1992. We enjoyed almost 20 winters in Florida where we made many lasting friendships. He dearly loved his family, also liked nice vehicles, motorcycles and guitars. Clifford is survived by his wife Erma (Carroll) Fraser, son Fred, his wife Christine, their children, Jennifer and Andrew and son Tom, his wife Andrea, their children, Brett and Matthew, and four great grandchildren. He is also survived by his brothers, Winnie (Marla) and Jimmy, his sisters, Shirley (Jim) Isenor, and Betty McFarland, his sister-in-law Jackie Fraser and his brother-in-law Clarke Isenor. He is survived by his in-laws, Archie and Freddy Carroll, and sisters-in-law June(Harold) Cole and Irene Milbery and Ruth-anne Carroll. He was predeceased by his parents, Braden and Edith Fraser, an infant son, William Robert, his brother Everett, his sisters Norma Northgrave, Kay Isenor, and Beverley Miller, brothers-in-law Dr.Mel McFarland and Lornie Miller. He was also predeceased by his Father and Mother in-law Jim and Elizabeth Carroll, brother -in-law Vernon Carroll, sisters in-law Erma Carroll, Marg Carroll and Dot Carroll. Funeral service will be held at Ettinger's Funeral Home in Shubenacadie, Nova Scotia on a date in March, to be announced later. I ,and my sons would like to thank all the wonderful medical staff at Northumberland Hills Hospital, the VON, and the nurses from St. Elizabeth's, especially Holly for the excellent care of Clifford in his last few months. A heartfelt thanks to Dr Essak who made many visits to our home over the past few weeks, especially the visit on Christmas day. Condolences received at www.MacCoubrey.com.
Our most sincere sympathies to the family and friends of Clifford MacKenzie Fraser February 21 1930 January 5 2018.source
Death notice for the town of: Cobourg, Province: Ontario
We knew Cliff as a friend and neighbour. He had a great sense of humour and loved country music. He was love by many and will be dearly missed by all who knew him.