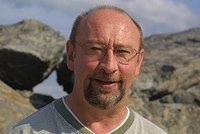 David Ernest Childs
CHILDS, David - West Saint Andrews. Our beloved David Ernest Childs passed away suddenly on Saturday, Dec. 2nd, 2017 in Colchester East Hants Health Centre, Truro, age 59. David was born in 1958, at home in Yeovil, Somerset County, England.
David was a person of faith who quietly believed "Where there is love and charity, there is God".
His constant passion for photography fed his creative side. David could be found photographing birds, wildlife and all things nature. He also had a keen ear for beautiful music and spent time enjoying various refrains in Royal Albert Hall in England, to the small cathedrals and halls here in the maritime provinces.
One of his greatest joys was sharing his library of music until the wee hours of the morning. Many nights were spent listening to David's chosen selections ranging from Hildegard von Bingen to his much-loved Genesis and everything else in between. David loved his Sunday "drives to nowhere". The back roads and unknown areas of our province were his favourite places. David was also an avid traveller who spent time in Africa, Austria, Greece, Spain, Turkey and France, among many places.
David's soft spoken manner and dry wit made him cherished by those closest to him. He loved a good joke and a play on words.
David's career in the aerospace industry spanned 42 years.
Left behind is his wife, Cindy, who was his best friend, fierce protector and his "one true love";
David's beloved and cherished sons, Troy, England; Mitchell, China.
David was predeceased by his loving mother, Olive Childs. He will be sadly missed by his father, Jim Childs (Tina) Yeovil England; older sister, Jacqueline Foster (Dave); nephew, Ben and niece, Katherine, Yeovil England; step-son and dear close friend, Matthew, Berwick, Nova Scotia; step-daughter, Jennifer (Matt), New Glasgow, Nova Scotia; and his strongest ally and youngest step daughter, Kathryn, New Glasgow, Nova Scotia. David's two grand boys, Best Boy Benjamin and Big Boy Harrison will forever miss their "Poppi". His little dog Millie is lost without him.
David was always amazed by our loyal and steadfast neighbours in West St. Andrews. For your caring, hard work and continued support during his heart troubles, and throughout the years, we are eternally grateful.
We would like to thank Dr. Lionel Hindler; you were one of David's hero's. Your ongoing dedication to his health and well being brought reassurance to David during his 16 years with you.
Thank you to the Halifax Infirmary's Dr. Idris M. Ali. Your diligence and belief in David's return to health, will forever be remembered.
In lieu of flowers, donations can be made to the Heart & Stroke Foundation of Nova Scotia. In remembrance of David, take time to walk on the beach, listen to your favourite piece of music and marvel at the sunset.
Condolences, words of comfort, and memories of David may be shared with the family at: www.ettingerfuneralhome.com
What we once enjoyed and deeply loved we can never lose,
for all that we love deeply becomes part of us.By Helen Keller
"Well Done My Wayfarer" now you are God's photographer –Cynthia Douglas Childs