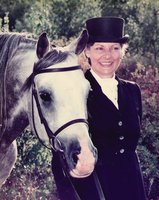 Jennifer Ann Fried
Fried (Dyer),Jennifer Ann, age 69 of Upper Nine Mile River, passed away on November 24, 2017 at Colchester East Hants Health Centre, Truro.
Born in St. Andrews, Fife, Scotland, she was a daughter of the late Victor and Helen (Webster) Dyer
Early in her life the family immigrated to Nova Scotia where she received her education.

Jen was a successful business woman running Clearwater Well Drilling for many years and operating several businesses with her partner, Eric.

Jen had always loved horses and ponies and from the 1980's on she channeled her amazing energy into the breeding, training and showing of high-quality Arabian horses. The stallion Polaze --better known as 'Pooh'-- was a long-time companion at Fantasy Farm, and his progeny of Half-Arab ponies and much-loved sport horses spread across the Maritimes. A booster of light-horse sport as a developable local industry, Jen was President of both Maritime Arabian Horse Association and Nova Scotia Equestrian Federation, making many long-time friends and allies. But her equine friends were the joy and recipients of her time, always guaranteed a good life. Jen was also an accomplished photographer and member of the Photographic Guild of Nova Scotia, winning numerous awards for her beautiful photographic images. She also served a term with the guild as president. Her love of nature and animals was always reflected in her photographs.

She is survived by her husband Eric White, sister Elizabeth Penelope (Barry) McGuigan, nephews Michael James Dyer McGuigan, David Evan (Sylvie) McGuigan, Kevin Kirkaldy McGuigan; great niece Olivia McGuigan.
At her request, cremation has taken place under the direction of Ettinger Funeral Home, there will be no visitation or service.
You may consider making a memorial donation to the Cobequid Wildlife Rehabilitation Centre: http://cwrc.net/cms2/wp/ or honouring Jen's memory by offering an act of kindness towards others.
Condolences, words of comfort and memories of Jennifer may be shared with the family at: www.ettingerfuneralhome.com