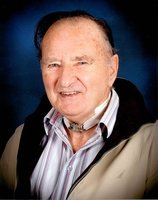 Clarence Edward Cox
COX, Clarence Edward - age 94, of Dartmouth, formerly of Selma, passed away July 29, 2017 in Camp Hill Veterans Memorial Hospital (V6E), Halifax. Born in Sterling Brook, he was the youngest son of the late Edgar and Susan (Faulkner) Cox.
Clarence graduated as a Registered Nurse from the Victoria General Hospital School of Nursing in1942. Upon graduation, he enlisted in the Medical Branch of the Royal Canadian Navy where he spent more than 2 years in the Navy Hospital in Sydney, NS and was later drafted on board the frigate, HMCS New Waterford. While serving in the Navy his father died and on his discharge, Clarence came home to the family farm. With his brother Austin, together they created Cox Brothers Poultry Farm Ltd which was incorporated in 1953.
Clarence was a very active member of his community. He was a member and elder of the United Church of Canada (Selma), as well as a member of the Egg Marketing Board and Canadian Hatchery Association. He also served as a Councillor for the Municipality of East Hants for 7 years. He was actively involved with the Family and Children Services throughout the years, and was a role model to many.
Clarence was predeceased by his first wife, Ruth Clifford, of Tiverton, as well as siblings, Gertrude Pratt, Austin Cox, Lloyd Cox and Lydie MacPhee.
He is survived by his wife, Kathryn Webber-White of Dartmouth, NS. He is also survived by his six children, Susan (Terry) Price, Rosemary McCluney, Paul (Heather Addley) Cox, Danny (Brenda) Cox, Anne (Cory) Garbolinsky, Andrew (Annette) Cox; two step-sons, Mark (Pam) White and Richard (Marilyn) White; grandchildren, Jason, Jeffrey, Jennifer, James, Olivia, Breanna, Matthew, Rachel, Ashley, Jessica, Nicholas, Philip, and Jennifer; great-grandchildren Hannah, Garrett, Brenna, Emma, Willow and Weston; several nieces and nephews.
Visitation will be held beginning 2pm Wednesday, August 2 until time of service at 4pm, both in Ettinger Funeral home 2812 Highway 2, Shubenacadie, Rev. Martin Reid officiating. A private family burial will be held at the Selma United Church Cemetery immediately following the service.
In lieu of flowers, donations may be made to the Family & Children's Services of Hants County, Windsor, NS. Many thanks to the doctors and nurses of V6East at the Camp Hill Veterans Memorial Hospital for their compassionate care.
Condolences, words of comfort and memories of Clarence may be shared with the family at: www.ettingerfuneralhome.com